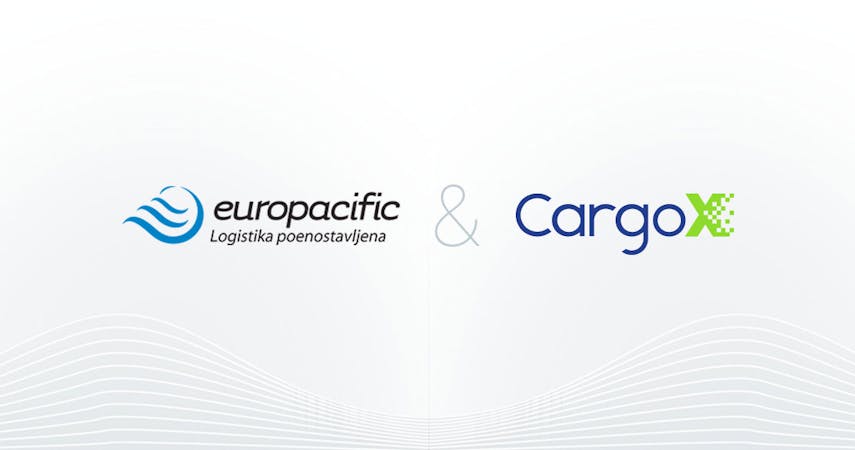 CargoX and Europacific partner to innovate in logistics processing
(Hong Kong / Koper - 31 August 2018) - CargoX, the provider of the blockchain-based Smart B/L™ solution for the logistics industry, has signed a partnership agreement with Europacific, a regional logistics company embracing technology to optimize logistics processes.
Europacific is a modern international logistics company with a tradition of employing world-class staff to organize land, sea, and air transport. They are best recognized through their cooperation with the Port of Koper, from where they service the entire region of Central and Eastern Europe, with rail transport all the countries in the region.
They use their own comprehensive information system with clear guidelines in all possible situations to complete and solve the entire logistics process from the sender to the recipient.
Europacific is proud of their advantage, namely the ability to offer their best partners from Asia 24/7 accessibility and responsiveness, and their business model is being constantly innovated. That is why large customers trust them.
"Europacific has been embracing technology and optimization of logistics process' for since its inception in 2003. We have always been on the lookout for those technologies which can bring us the competitive edge over our competitors. We have developed several solutions in-house, allowing us to process more data and shipments with fewer hands.
In the past year blockchain technology has been developing by leaps and bounds. We love the idea that data is input only once and is transferred between parties with close to no possibility for error.
As an NVOCC and co-loader, we issue a significant number of OBls and SWBs. Hence, we have been on the lookout for a way to optimize the transfer of our BLs to relevant parties in the logistics chain. CargoX seemed to be the obvious solution, being locally developed and globally deployed, it gives us peace of mind. Our plan is to connect our IT solution to CargoX's so that our operatives don't change their process except that, instead of printing and sending BLs thru couriers, we send the BLs through CargoX.
I believe CargoX has a bright future, especially when an even greater number of logistics parties are on-boarded and give their feedback to the developers," said Rok Kobal, CEO of Europacific.
"We are keen on collaborating with agile logistics service providers, as they are the ones that drive change in the logistics and supply chain management sector. Europacific is especially innovative in using technology for its advantage and agility, which is why we see them as the ideal showcase partner," said Stefan Kukman, CEO, and founder of CargoX.
More about Europacific
More about CargoX Smart B/L™