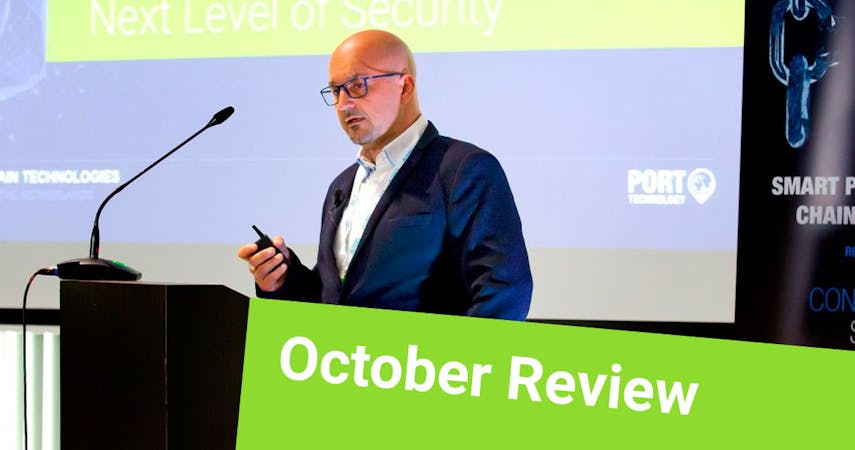 CargoX Monthly Review - October
Dear supporters,
October was so intense, with all the preparations for the go-live of the CargoX platform, that we almost forgot to send this monthly review!
CargoX was the leading blockchain provider at the Smart Ports & Supply Chain Technologies conference in Rotterdam. Igor Jakomin, Ph. D. and COO of CargoX, presented the CargoX platform to all the senior-level thought leaders from key industry front runners. Read the press release.
We have also started our activities in Berlin (read the news), where our representative, Francisco Montenegro, is setting up a representative office. Read his blog!
The next stop in October was a partnership with the consolidated shipping company Sprint International Express. They believe strongly in blockchain technology and Denise Richardson, the CEO, confirmed that she is confident their customers will embrace this new form of processing and receiving smart B/Ls. Read the details.
The FreightCamp freight forwarders conference, organized by the Pangea Logistics Network and Connecta Airfreight Network, was the next in line, where Igor presented the CargoX platform to more than 400 members of both networks. All the members collaborate in more than 95 offices and over 400 local offices, and a turnover of 1.5 million shipments per year. Read the press release.
The CargoX platform was presented at the JOC Logistics Technology conference in Las Vegas by Patrick Vlačič, CargoX's maritime legal expert, on stage with Andrew McLoone, director of operations at BDP International. Read the press release.
So, here is November … we are in the middle of it, but we feel that the big bang is coming!