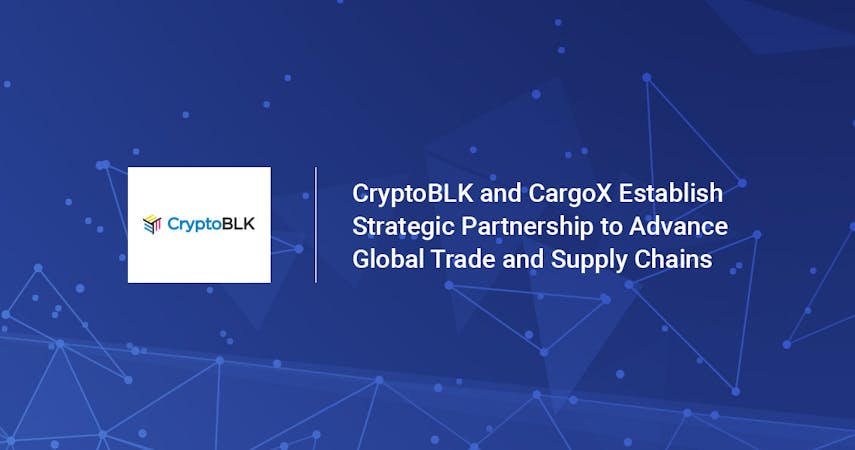 CryptoBLK and CargoX establish strategic partnership to advance global trade and supply chains
(Hong Kong, 12 October 2020) - CryptoBLK, an enterprise DLT/blockchain technology company, and CargoX join forces to streamline processes and accelerate digitalization in global trade and supply chains by integrating two blockchain platforms, Atlas Elite, an open account trade finance solution and the CargoX Platform for Blockchain Document Transfer (BDT).
CargoX provides contactless, secure, fast, and cost-efficient original document transfer in supply chain and adjacent industries, such as trading, manufacturing, finance, energy, services, regulators, and governmental agencies. The platform lets companies avoid manually handling heaps of shipping and business paper documents. The CargoX Platform is built atop the open, neutral Ethereum public blockchain.     
Atlas Elite was designed to solve the obstacles to global trade: disconnected systems, heavy paper-based processes, and risk of fraud, which lead to a US$1.5 trillion financing gap, according to the WTO report. Built on Corda blockchain, Atlas Elite enables corporates to carry out trade finance processes digitally and helps financiers reduce credit risks as authentic documents shared on the DLT platform are traceable with high transparency.
The partnership enables banks, corporate clients, logistics companies, and the extended trade ecosystem to digitally transfer documents and manage trade finance and related documents via multiple blockchains simultaneously. Users access the services in one single-window application but can fully enjoy the advantages of CargoX and Atlas Elite at the same time, allowing them to increase the capacity and velocity of their transactions.
Dr. Duncan Wong, CEO of CryptoBLK: "The collaboration with CargoX will significantly help accelerate Atlas Elite's integration with other innovative systems in the global trade industry. It facilitates Atlas Elite's users to transfer document ownership between banks, corporate clients, and logistics companies on multiple blockchains. Through the partnership, we believe we can take on the digitization challenges together and provide cost-effective operations in global trade and supply chains."
"CargoX has been at the forefront of the blockchain revolution and trustworthy internet services development. We are proud that market-leading platforms and visionary companies, such as CryptoBLK with its Atlas Elite, are integrating our services for secure, efficient and fast blockchain document transfer - and in that way also moving the boundaries of the interoperability between blockchains. We firmly believe that blockchain is made to serve as the ultimate proof of document originality, and the most auditable ownership transfer method. Together, we are building digital trust in the business of the future," said Stefan Kukman, CEO and founder of CargoX.         
About CryptoBLK
CryptoBLK is a technology company focusing on developing, deploying, and operating Blockchain systems, aiming at making global impacts in the financial services industry by delivering software solutions and services based on Distributed Ledger Technology (DLT, a.k.a. Blockchain). Its mission is to unlock new possibilities, improve efficiency and productivity, and simplifying workflow and processes using DLT that is secure, transparent, and trustworthy.
As one of the most prominent world-leading DLT development teams, CryptoBLK has rich experience in developing industry-wide DLT platforms as well as custom-made DLT-based applications for the financial services industry and many other industries. Besides one-stop enterprise-grade Blockchain-based solutions, the team also provides consultancy service on digital asset management and DLT security assessment.
More info:• CryptoBLK• Atlas Elite
• World Trade Organization Report, P99