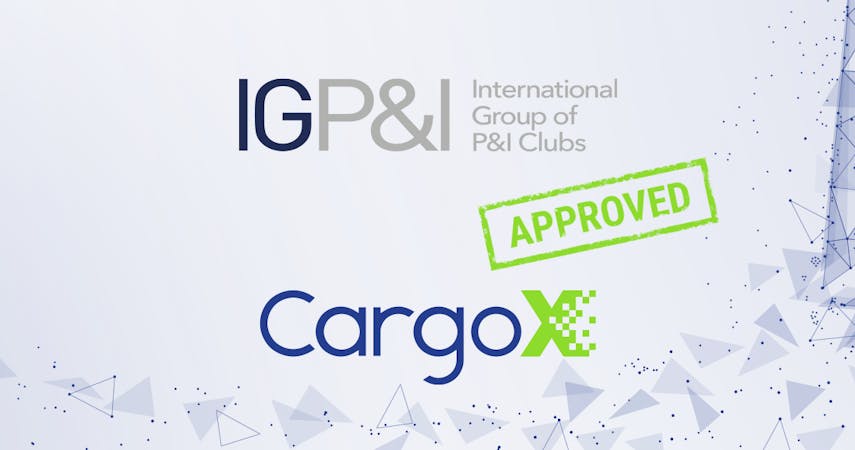 CargoX Monthly Review - 2020 February
In the ocean shipping business, insurance is extremely important to have - and insurance companies are the gate-keepers of solid business.
That makes us even more proud to announce that we have reached the MAJOR MILESTONE that we have all been waiting for. CargoX has, after a year and half since starting the process, been approved by the International Group of Protection & Indemnity Clubs (IGP&I)!
This step is extremely important, as ocean carriers, exporters, and other entities want to comply with the provisions of the insurance rules just in case anything goes wrong in the shipping process.
This largest group of 13 P&I clubs insures approximately 90% of the world's ocean-going tonnage and, of the top 25 reinsurers, 22 were featured in their program in 2019 (see full list of member Clubs).
The Group has only approved a mere six digital platforms so far in the whole history of its operation, and we are the last addition, boasting the public blockchain Ethereum as our underlying technology!
"The mutual club system has proved itself resilient and responsive for over 120 years. Future-proofing the Group is not a novel concept, but it will be a key focus within the Group going forward, and whilst looking ahead, the only certainty is uncertainty, the Group, and its member Clubs will be there to deliver the necessary solutions for their shipowners and to protect third-party interests," emphasized Mr. Paul Jennings, Chairperson of the IG P&I, in the Group annual review.
"CargoX is fully committed to building trust among partners in the supply chain industry's trustless business world. Providing a fast, secure, and efficient way to transfer documents of title, and herewith the ownership of the transferred goods, is of fundamental importance to global trade. We are proud to have been awarded the trust of such respectable institutions, members of the IG P&I. We are looking forward to the future!" said Stefan Kukman, founder and CEO of CargoX.
Read the whole press release here!
The news has been covered extensively by the media, such as the prestigious blockchain Week in Ethereum News, Smart Maritime Network, Lloyd's List, Sea News, Shipping and Freight Resource, E&W Express for Int'l Shipping, CW.club, CryptoNinjas, Hana International Logistics, Safety4Sea, HedgeMaven, Digital Ship, Port Technology, Marine Insight, and many more (see the list here).
Meanwhile, we are moving forward - the new generation of the CargoX platform is in the final polishing phase, and it is already being tested by our partners.
Vjeran Ortynski, CBDO of CargoX, has explained our blockchain solution and the current state of affairs in the regional Supply Chain Adria (we translated the interview for your convenience).
Last, but not least - CargoX has reached out to companies trading with China to provide them with blockchain Bill of Lading transfer free of charge for a limited time! We have received a lot of positive feedback and inquiries, but companies are currently struggling with their own operations and mostly cannot take on the burden of fresh digitization effort.
We are happy to have finally been able to provide this great news to you - and much more is set to come this year!
Cheers,
Your CargoX.io Team