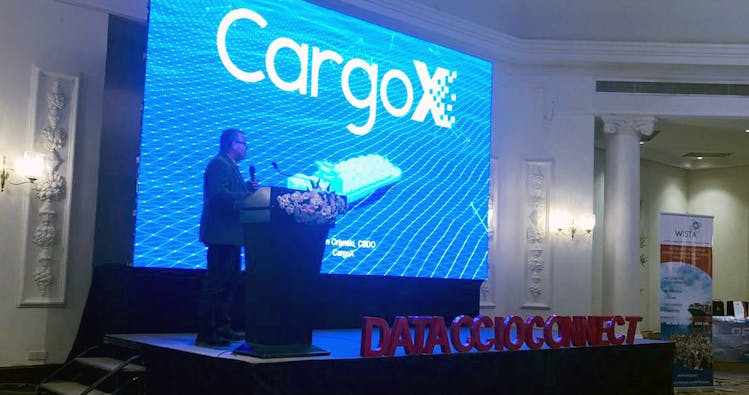 CargoX Smart B/L™ presented to maritime executives at #DataccioConnect Colombo
(Colombo, Sri Lanka, March 29 2019) - Vjeran Ortynski, CBDO, presented the CargoX Smart B/L™, built with the CargoX Blockchain Document Transaction System (BDTS), at the #DataccioConnect conference in Colombo. Hundreds of decision makers attended from maritime shipping, logistics, and supply chain industries.
#DataccioConnect is a one-of-a-kind technology event targeted at key players across the entire maritime ecosystem. They familiarize decision makers with the technological advancements taking place across the sector and make the transition to digitalization comprehensive and smooth. They are bridging the gap between the past and the future in the maritime industry, and it is their endeavor to show the community the benefits of digitalization and the steps needed to make for a seamless transition.
Mr. Atul Kulkarni,, member of the Board of Governors of the prestigious Indian Institute of Management, Shillong & NITIE Mumbai, and an Independent Consultant in the maritime Industry has been the opening keynote speaker at the #DataccioConnect Colombo.
Mrs. Shilpa Kareraa, CEO of Myraa Technologies and blockchain lead at BlocBox spoke about blockchain technologies helping ports optimize. She is a leading AI expert and a serial entrepreneur with over 25 large scale deployments where her technology is used by over a million users to solve global industrial challenges in India, UK, and Singapore.
Through #DataccioConnect traditionalists and technology enthusiasts are brought together to encourage a discussion on technology trends - Big Data, AI, IoT, Blockchain, etc. - that are making their presence felt in the maritime sphere, now more than ever! The conferences are used to showcase how this technology is being implemented, what are the felt benefits and how embarking on this digitalization journey could be beneficial to your enterprise.
"It is great to participate at such an event, where executives and experts from the maritime ecosystem all have the chance to see how CargoX is making the ancient paper bills of lading turn into Smart B/L™ - a modern, blockchain-based, secure, reliable and fast digital document in a system where ownership can be validated and proven anytime. #DataccioConnect is showing the future for the cargo shippers - and CargoX is part of that future," said Vjeran Ortynski, Chief Business Development Officer of CargoX.
CargoX won the #DataccioConnect Blockchain Innovation Award in Dubai in November 2018.
Read more about #DataccioConnect
Read more about #DataccioConnect Colombo