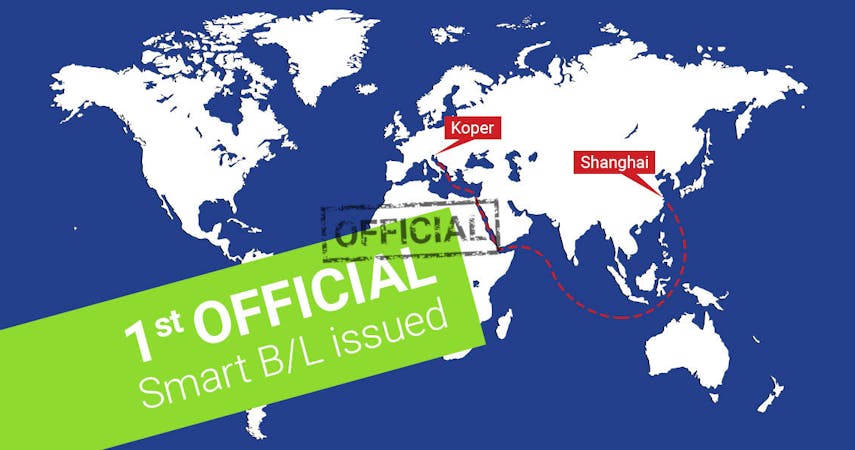 First ever blockchain based Smart B/L was issued on a route from China to US First Lady Melania Trump's home country of Slovenia
(Shanghai - 27 July 2018) - This is the moment we have all been waiting for! The first ever official Smart Bill of Lading for an official shipment was issued on Friday, 27 July 2018, and the shipment is currently travelling from China to Europe, where it will arrive in August.
"This shipment proves that the logistics business is being revolutionised, with the Bill of Lading being just the first in the line of procedures that are being completely digitalised. CargoX has been working hard in recent months to develop, test, and validate the CargoX Smart B/L solution, and we have been working with partners to really make it the simplest and easiest solution possible, while at the same time providing state of the art security and reliability in the process of creating, transferring, and processing the Smart Bill of Lading. We are now proving, in the field, that this goal has been achieved 100%," said Stefan Kukman, CEO and founder of CargoX.
The shipment in question is a 20-foot (1 TEU) container, containing 24.8 cbm (cubic meters) of Garment cargo, weighing 3752 kg. The container was loaded in the port of Shanghai, China and it will be discharged in the port of Koper, Slovenia.
When the shipment arrives at its destination, we will be releasing an in-depth story about the Smart Bill of Lading's first successful voyage in the history of shipping. Of course, we will also be including testimonials from all involved parties, along with all the juicy details.
Stay tuned!