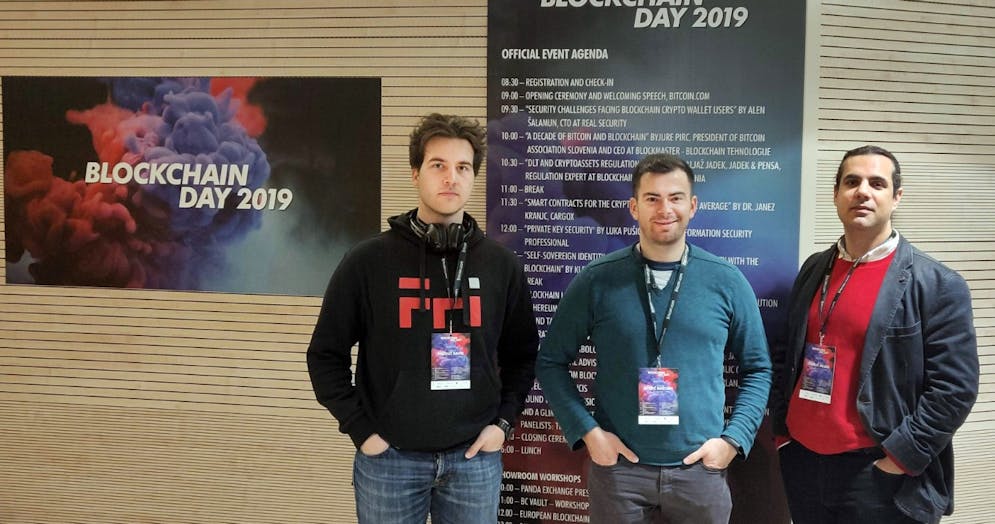 Janez Kranjc, CTO of CargoX, on smart contracts at the Blockchain Day 2019
(Laško, March 21 2019) - Janez Kranjc, Ph.D., CTO of CargoX, has been invited to talk about smart contracts at the premium new technology conference in the Adriatic region, organized by the REAL Security firm and Bitcoin association Slovenia.
Close to 100 participants attended the event, which took place parallel to the largest security conference in the region, the RISK 2019, where 500 more participants were able to listen to the Blockchain Day lectures. Guests arrived from more than 20 countries, mainly from the Adriatic region, with some from Israel and the USA. Enthusiasts, evangelists, and experts from IT, engineering, software development, and sales were all in attendance, along with advisors and executives. CargoX developers attended the event also (headline photo).
Blockchain technology grew from a cypherpunk underground niche movement by a selected few cryptographers to a mainstream technological innovation. Yet, as the event's organizers stressed, blockchain as it currently exists completely hinges on individual users' security practices. Blockchain technology is not just for instant day-trading in cryptocurrency, but a system for instantaneous and secure change tracking in the public asset ledger. Many companies have or are developing systems for property management, supply line tracking, and decentralized IoT devices - and CargoX is one of them.
CargoX surely is one of those solutions that is completely business to business oriented, and where great value is transferred through the underlying Blockchain Document Transaction System (BDTS) in the form of Smart B/L™ logistics documentation transfer solution.
Janez Kranjc, Ph.D., CTO of CargoX and chief software development architect in the company, lectured about smart contracts and related security issues: "Each smart contract interaction requires a fee to be paid by the caller. This is often problematic if we wish to onboard users to our dApp that have no prior experience with cryptocurrencies, yet we still wish for them to interact with the blockchain. In order to provide them with the benefit of smart contracts and the distributed ledger, but alleviate them of the burden of paying for "gas" (transaction fees in the blockchain environment), we can use several techniques." Janez then talked about these multiple techniques, highlighting the pros and cons of each and describing in detail the one used at CargoX.
Read more about Blockchain Day 2019