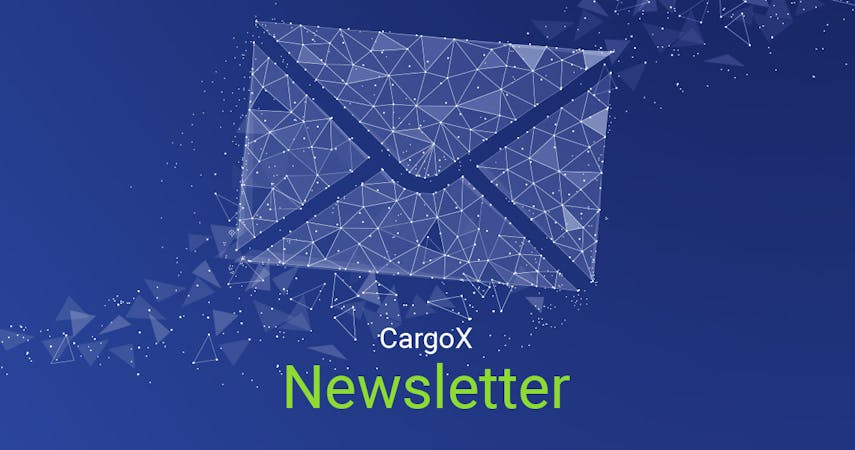 CargoX Monthly Review - 2020 June
Dear CargoX Platform users and supporters,
We are all ending Q2 with questions about what Q3 and Q4 will bring - nobody can predict the future, but we can all prepare the best we can with what we currently know.
On-going platform improvements
As we have built our company on solid technological development, we continue to regularly improve and adjust our CargoX Platform. It is always accessible at https://cargox.digital/. You might not notice many of the smaller improvements and fixes, but they will make using the CargoX Platform even smoother. The upgrades are available to all users right away by default - we made more than 100 improvements, the most important ones being:
Send a document as "pay to collect" (where the envelope's recipient pays for transfer). The recipient may reject the envelope with an optional message. This envelope is then returned to the sender.

User experience has been improved in that all returned (e.g. when the blockchain transaction fails) and rejected (when the recipient rejects payment upon collection) documents are shown under the RETURNED tab. The tab is visible only when there's something to show.

Audit logs in PDF and HTML now contain a QR code to quickly access the transaction's Etherscan proof.

Search is now more flexible, with new parameters for specific tags and partial tags. Search entries are now persisted when switching tabs.

All documents may now be recorded on the blockchain. Users can pick whether the document gets recorded on the blockchain or not. This is the ideal way to prove that you sent something or to prove the authenticity of any possible document. 

Affiliate managers can now access data about their affiliates through the new and improved affiliate dashboard.

Lookup has been introduced for blockchain transactions that are still in progress, with ETA estimates. 

Credit purchasing on the platform has been simplified, and credit packs have been introduced. 

Blockchain key authorizations are now much faster.

Document copies now include custom text based on the document type.

Destroyed documents now show "NULL AND VOID" on the document copy.

Credit history now includes itemization for how the credits were spent.

Developer documentation has been updated -- more APIs have been extensively documented and new examples have been added.

Errors in the application's user interface are now highlighted for better visibility.

All tokens on the blockchain now include SHA-1 hashes from individual documents to make it easier to verify their authenticity offline.
CargoX news
Besides working on the product itself and other projects, we were also busy in other respects:
Our largest project to date: India
We have already reported how India is tackling the emergency with its strategy to digitalize trade documentation flow (see our full press release) and with the help of the CargoX Platform integrated into their Port Community System with 16k+ users, built by Portall Infosystems. The tests were successful and we are now part of the official document transfer channels! 
More than 50 media outlets globally covered this success story - Freightwaves, Indian Transport & Logistics News, CargoConnect, Port Wings, The Maritime Standard, Transport & Logistics Middle East, Sea News, SAfety 4 SEA, Coastal News Today, FreightComms, Turkish Maritime, Smart Maritime Network, The Hindu Business Line, the Maritime Executive, International Shipping Network, World News, Europe World News, Shipping and Freight Resource, Hellenic Shipping News, Sea Wanderer, The Loadstar, Digital Ship, World Cargo News, Port Technology, and more. 
And recently, the Minister of Finance and Corporate Affairs of Government of India, Hon'red Nirmala Sitharaman, tweeted an article from The Hindu Business Line about the progress so far on the ministry's project with CargoX. We can only say that we are glad we can help, and India is not the only country looking at our solution. 
As always, we are here to answer your questions - you know where to find us. We wish you a more relaxed summer and better business without the limitations of sending pieces of paper! 
Cheers,
Your CargoX Team