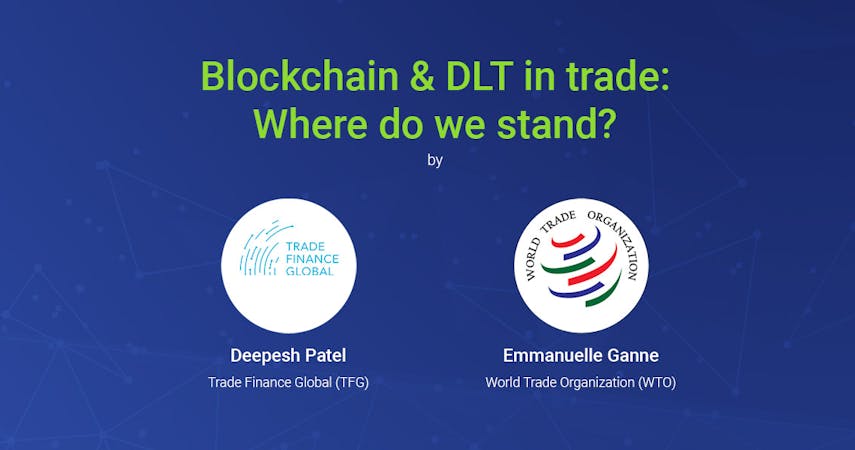 CargoX included in Trade Finance Global (TFG), World Trade Organization (WTO) and International Chamber of Commerce (ICC) publication Blockchain & DLT in trade: Where do we stand?
(February, 2021) - CargoX is proud to be included among the finest blockchain (distributed ledger technology, DLT)  projects in global trade, as seen by Trade Finance Global (TFG), World Trade Organization and International Chamber of Commerce. 
The TFG and WTO, in partnership with the ICC, have recently published a comprehensive overview providing a detailed project by project summary of the blockchain in the trade industry. The extensive publication has been authored by Emmanuelle Ganne, Senior Analyst, Economic Research and Statistics Division WTO, and Deepesh Patel, Editorial Director at TFG.
"Consortia, networks and technologies have emerged in attempts to digitize trade, yet to date, their applications have been relatively unsuccessful and disjointed. We investigate some of the key opportunities and challenges in the current ecosystem, as well as an in-depth look at what needs to happen for the industry to evolve. Just as TCP/IP, HTML, and HTTP provide shared and open standards and protocols that enabled the Internet to become what it is, so too can blockchain and related technologies create a flatter, smarter, more connected, and overall better world for global trade and commerce," say the publishers, Trade Finance Global.
Emmanuelle Ganne of WTO summarizes that the publication presents an updated periodic table of DLT projects in trade, as launched in November 2019 by the ICC, WTO and TFG at the WTO Global Trade & Blockchain Forum. The team has mapped 44 projects and assessed their level of maturity and presented the update at the recent 2021 Hong Kong Fintechweek event. 
The 51-page document summarizes supply chain finance, trade finance, know your customer (KYC), insurance, DLT digitalization of trade documents, shipping & logistics / supply chain, as well as other initiatives and marketplaces. 19 standardization initiatives are included by sector or process, as well as general trade, private sector-led and regional / national initiatives, and  the international standards bodies, and a survey of pandemic impact on trade digitisation.
The study also showcases the results of a supplementary survey analyzing the impact of the COVID-19 pandemic on the projects featured.
The publication covers the following topics, bodies, initiatives and projects:
Overview, DLT uses in trade, what's different, customs development trailing, DLT supply chain finance initiatives, Structure of the Periodic Table and added KYC projects.

A visual periodic table of DLT projects. 

Standardization initiatives focused on sectors or processes (Blockchain in Transport Alliance - BiTA, The Digital Container Shipping Association - DCSA, Mobility Open Blockchain Initiative - MOBI, The Belt and Road Blockchain Consortium, The World Customs Organizations - WCO), general trade focused initiatives (United Nations Centre for Trade Facilitation and Electronic Business - UN/CEFACT and The ICC Digital Standards Initiative - DSI), general private sector led initiatives (The Enterprise Ethereum Alliance - EEA, GS1, The Institute of Electrical and Electronics Engineers - IEEE, The World Wide Web Consortium - W3C), international standardization bodies (International Telecommunications Union - ITU), International Organization for Standardization - ISO), and national or regional initiatives (British Standards Institution - BSI), European Committee for Standardization - CEN) and European Committee for Electrotechnical Standardization - CENELEC, China Electronic Standardization Institute - CESI, European Telecommunications Standards Institute - ETSI), European Blockchain Partnership - EBP) / European Blockchain Services Infrastructure - EBSI, National Institute of Standards and Technology - NIST).

The COVID-19 pandemic: impact on DLT projects in trade.

Projects in trade finance (Contour, SkuChain, eTradeConnect, Infosys Finacle, komgo, Marco Polo, Minehub, People's Bank of China Blockchain Trade Platform, TradeFinex, TradeWaltz, UTC, we.trade), KYC - know your customer (Clipeum, KYC-Chain), insurance (ADEPT, Insurwave), DLT digitalization of trade documents (CamelONE, CargoDocs/essDOCS, CargoX Platform for Blockchain Document Transfer, dltledgers, eCOM Asia, edoxOnline, Enigio, Bolero, TradeWindow, Trusple, VAKT, WaveBL, ), shipping and logistics, supply chain (Aero Blockchain Alliance - SITA, Calista, China-Europe E-Single, Deliver, DP World, Global Shipping Business Network / Cargo Smart, TradeLens), and other initiatives and marketplaces (Crowdz, The Digital Trade Registry, Fast Track Trade, GUUD, ICC Tradeflow, ReChainMe, TradeCloud, TradeTrust, x-DeFraud). 
You can find the complete document to download free HERE → https://www.tradefinanceglobal.com/blockchain/


A note to the document: Some graphics state CargoX uses Quorum - we use Ethereum, as is correctly stated in the text in the publication, and also Matic Network, recently renamed to Polygon.