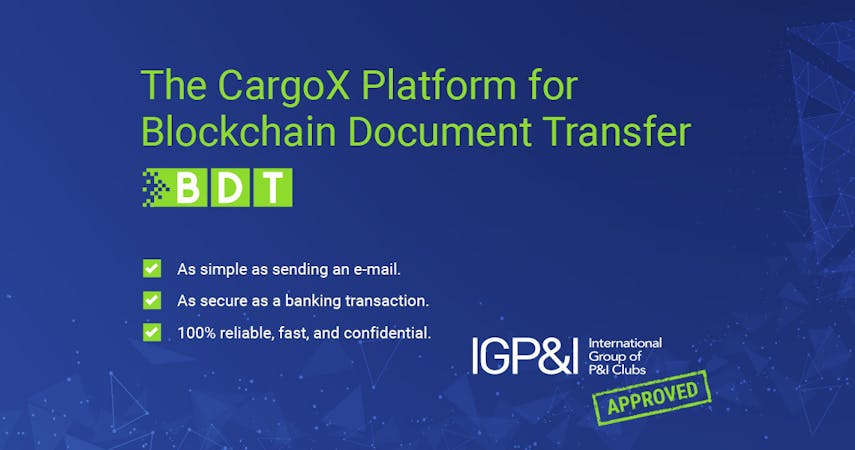 The CargoX Platform for BDT makes entry into the world of corporate blockchain simple and user-friendly
Simon Ručigaj,
digitalization advisor and communication manager
We made the CargoX Platform for Blockchain Document Transfer (BDT) as easy and simple to use as possible. We know there is stress involved in sending the most valuable business documents in business on their way - either giving them to couriers or asking someone to deliver them to the exact person that needs to receive them. This is exactly what we wanted to simplify so that you do not have to lose any thought about it. 
So, what did we do? We joined the elements of the things that you already know into one powerful tool that you will love to use every day.
The CargoX Platform, intended for sending documents around the globe, while also irreversibly and unequivocally transferring the ownership of these documents, unites the following concepts: email, electronic banking, business networking, and cryptography. 
It is similar to email
Email is as omnipresent as air - so why not build a platform similar to email, so that users already know what almost every button does. You upload the document, you select the recipients, designate the release agent, and off it goes. You can see when it arrives - and you can also see when documents are arriving your way before they are delivered! Notifications and filters give you extra functions, which really helps you improve teamwork and workflows. 
Because this is a business solution, you can always designate levels of access to message creation and sending, to better organize your document transaction flows the way you want - and your team members can be specialized for different tasks.
The platform is organized in a way that you are always represented as a company, not as an individual. 
… with elements of business e-banking
Email means simplicity, while e-banking is a synonym of security! The CargoX Platform is built atop an electronic distributed ledger. The blockchain tokens used to secure and transfer ownership of the documents sent through the CargoX Platform function in a way similar to banking transactions - except, there is no central bank! The system is decentralized, which means there is no single point of risk. There are thousands of servers securing the transactions and making it possible. The only thing that reminds you of the underlying structure is your blockchain key.
… and even some business networking features
Some of the business networking features are just great. For example - you can invite your business partners onto the platform. You just type in their email address and they receive a notification. Then your companies are virtually connected - and only you two know it, nobody else can see it. You can also see a notifications pop-down menu with information about what is going on with your documents or business connections. Rest assured - information about your connections is never disclosed, to anyone. 
Simple, but highly secure cryptography
We wanted to build the most secure platform possible for your most valuable document transfer. Yet we did not want it to be complicated, especially when the cryptographic features come into play. So we integrated the cryptographic elements of the blockchain technology as seamlessly as possible - and many customers love how non-intrusive it is. You can log in with your blockchain key, or your username, and you can always change your blockchain key for another one if you need to. 
* * *
So, why not try the existing CargoX Platform for Blockchain Document Transfer (BDT) functionalities today?  See how your company can benefit from digital, risk-free document transfer and ownership transfer of documents of title and other original documents. There is support for bills of lading, letters of credit, letters of indemnity, certificates of origin and other certificates, contracts, and anything else used in manufacturing, finance, trade, energy, logistics, shipping, and regulatory environments.