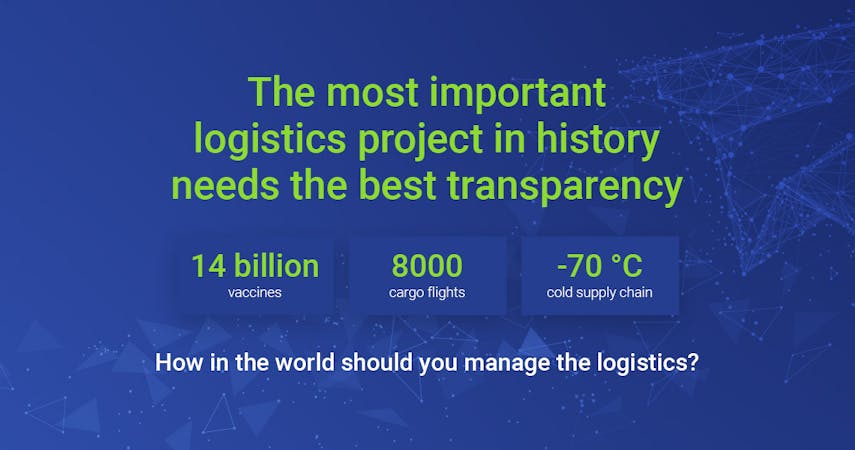 The most important logistics project in history needs the best transparency
Simon Ručigaj,
digitalization advisor and communication manager
The year 2020 and its still-raging pandemic have shaken up all our lives to their very core - but it has also brought one of the largest, most rapid global challenges in history: how to develop an efficient vaccine to stop the pandemic of Covid-19. And for 2021, the challenge is to manufacture, distribute, and keep track of the vaccines. Most of all, there need to be detailed audit trails, assuring product genuinity and transparency on request, if we have learned anything from the haphazard and sometimes illegal ways that PPE was distributed around the world in early 2020. 
So, what will happen and what could happen?
The cold chain challenge
Most people will need to be vaccinated, possibly twice, maybe even more. It seems that during 2021 at least 5 billion doses will be manufactured at several sites, and transported in extremely cooled containers - some even at minus 70°C - to destinations where there are no manufacturing capacities. And, even where manufacturing is possible, ground and last-mile deliveries will be a massive logistics challenge. So, how can technology help here?
The challenge is comprised of three interdependent layers:
manufacture enough doses in the shortest time possible, all with strict documentation

transport, store, and distribute the manufactured doses to their destination under required parameters

track every single step in the process and ensure unequivocal transparency
The manufacturing promises are going to be fulfilled by Pfizer, with their most demanding vaccine ever, one that needs temperatures up to minus 70 degrees Celsius (colder than the winter in Antarctica!), along with AstraZeneca/Oxford, Moderna, and Gamaleya, who are all on track to supply the vaccine as well, albeit most with lower efficacy rates.
It is already widely known that transportation will need to be efficient and safe, and follow meticulous requirements - temperature, duration, etc. Air transportation will likely be used for long hauling, and specialized road cooler units will need to deliver on-site - and this is precisely what needs the most scaling up, as capacities are limited. Sea transport seems too slow at this point - but things could certainly change quickly.
The mission of the century for airlines
The International Air Transport Association (IATA) has already run some of the numbers behind the enormity of this global challenge - to transport just a single dose vaccine for the world's 7.8 billion people would amount to 8,000 flights with a Boeing 747, each carrying 110 tons. At that rate, it would take two years to supply 14 billion doses, reports Fortune. Do not forget that only 1,600 Boeing 747 have been manufactured in the past 50 years, and there are currently approximately 25,000 passenger aircraft available in the world, of which as many as 2,500 have been converted to cargo.
That is why IATA set in motion their ONE Source central platform to match shipping needs with infrastructure capabilities (more than 3,500 facilities) and numerous service providers. "The platform will independently verify information, list the latest operational information on airlines, airports, handling facilities, forwarders, shippers and truckers, and take into account security and risk analysis data. The API will be free for all service providers," reports The Loadstar.
"ONE Source will give complete visibility of the capabilities and facilities across the supply chain," said Glyn Hughes, head of IATA Cargo. All parties will need to work together to maintain supply chain integrity.
Alexandre de Juniac, director-general of IATA, commented that they "urge governments to take the lead in facilitating cooperation across the logistics chain so that the facilities, security arrangements, and border processes are ready for the mammoth and complex task ahead" - as the vaccines are a perishable commodity and losing a vaccine because of delays could have dire consequences, both financial and, much more importantly, those measured in human lives. 
"The world is counting on us," de Juniac said. "We will not disappoint."
The Loadstar reports that tons of logistic companies stepped up to the task, even two months ago already, in order to show the public their finesse in transporting pharmaceuticals. Such enterprises include Kuehne+Nagel, which opened up airside pharma and healthcare hubs with direct tarmac access, as well as dedicated areas for all temperature ranges.
Lufthansa has also noted that they have cold-chain facilities capable of maintaining shipments at below minus 25°C: "There are only a few airlines in the world that have a network to provide door-to-door cooling of cargo products, and Lufthansa Cargo is leading in that. We have now, I think, 35 destinations around the world already equipped for cooling products," said Carsten Spohr, CEO of Lufthansa Cargo, as reported in Skift.
Korean Air is also gearing up to improve its equipment, along with statements of intent from American Airlines, Delta, United Airlines, Southwest Airlines, and others. UPS has already built facilities with 600 deep freezers, each holding 48,000 vials. The logistics giant FedEx is emphasizing that they gained valuable experience from shipping the H1N1 vaccines a decade ago, and boasting a cold chain coverage in ground and air shipments, with more than 90 cold chain facilities around the world and FAA approval for increased use of dry ice in aircraft. 
Richard Smith of FedEx Corp. has optimistically said, "We're just waiting until they tell us they have a vaccine ready and we will be ready to go out there and deliver it to every ZIP code in the U.S. We'll be ready to deliver it around the world as well."
Unicef held a call in November with about 40 carriers to make plans for the global airlift to 92 of the world's poorest nations, for which it's leading efforts to purchase and distribute COVID vaccines. With another 80 higher-income countries that have chosen it to procure the inoculations they will buy, the agency's effort will cover 70% of the world's population, Fortune and Bloomberg report. They are adding that the delivery won't be just about airlines. Cars, buses, trucks—motorcycles, bicycles, and even donkeys—may be required to get the vaccine to rural areas. In some places, it may need to be carried in by foot.
But - how do you track and trace?!
One of the other, less publicly discussed major challenges in this daunting undertaking is preventing the spread of counterfeit vaccinations, and preventing possible malicious disruption in distribution. That is why drug companies are even requesting end-to-end security escorts, according to Dominic Kennedy of Virgin Atlantic Airways. And, of course, this is just yet another area where technology can help! 
Every shipment is accompanied by a whole heap of documents: commercial documents, certificates, transport documents, etc. Most documentation is still kept in paper form, which is a legacy of the past, and can cause multiple problems - it is easy to damage, lose, or tamper with. We have seen this many times over just in the year 2020 with personal protection equipment. But now stakes are even higher - so, what can we expect?
The power of an ecosystem control tower
The IDC and Logistics & Supply Chain Management Society published the report Conquering Covid-19, An Assault Plan for Covid-19 Vaccine Supply Chain Distribution, authored by Dr. Raymon Krishnan, President of TLSCMS, Dr. Cristopher holmes, MD for IDC Insights Asia/Pacific, and Stephanie Krishnan, RD IDC Asia/Pacific. They estimate that more than 1.5 trillion data points are required to move vaccines end-to-end, and show various use cases of suggested architecture for an efficient system. 
They assert that the critical element of managing the complete vaccination supply chain is to provide end-to-end visibility that allows for full orchestration and remote management. Lack of visibility hinders the ability to respond to changes and disruptions, with agility to ensure delivery and optimize costs. The shift to an ecosystem response approach requires that the supply chain control tower be upgraded to have an ecosystem control tower, they state. 
This control will also relate to setting standards and ensuring integration across the supply chain. A modern control tower capability permits operators to see what is happening in the supply chain and the broader business. It allows partners to be able to analyze data in real- or near-real-time and then take action. Supply chains can then act as a cohesive whole, providing a resilient path for the vaccine from producer to the patient's arm.
Such a control tower is an aggregation of many different digital systems. 
Their in-depth analysis suggests technology use cases for blockchain in the following scenarios:
tracking lot lineage and powering real-time access to a product's history throughout the supply chain to reduce the time spent tracking and tracing

next-generation cybersecurity, supported with current technologies, assuring patient confidence

global unified track & trace, to detect counterfeits and diversions, assure patient safety, track global recalls, and optimize the drug supply chain

manage transportation in 4PL models, aggregate data, improve visibility

manage inventory in real-time, with real-time visibility to inventory in storage and facilities, enabled by IoT and collaborative supplier relationships for improving order orchestration and fulfillment service levels

automate global trade, while the instrumentation of physical containers is integrated with trade systems and distributed, ledger-based settlement for both imports and exports, allowing for streamlined green-lane processing and reducing the time needed to clear customs

dynamic real-time carrier performance, providing visibility in real-time carrier movements, indicating whether specified pickup and delivery times will be met

contextual and value-centric insurance, with hassle-free service provided at the moment of truth (during the claims process), for improving transparency, enhancing overall customer experience, forging trust, and increasing brand loyalty through process transparency and claim management
What can the CargoX Platform contribute to all this?
The CargoX Platform can provide blockchain-based shipping document flow capabilities to such a complex platform.
While each part of such a supply chain platform can be handled by a dedicated tower, the CargoX Platform can help connect all the dots with a highly secure, auditable, transparent, and distributed ledger-based documentation flow. 
Original documents and attached data points can flow in a consolidated process from the ordering and purchasing entry point, through manufacturing, order fulfillment, and delivery, while retaining an immutable audit trail, featuring the highest level of business confidentiality. 
Throughout the process, an ultimate level of transparency and data consistency is ensured by means of the global, neutral, public Ethereum blockchain utilization. This technology does not provide - as opposed to traditional centralized IT systems - a centralized, simply hackable point of attack. 
Transparency and high efficiency are ensured, while data entry mistakes are eliminated, and document security at the highest level is provided.
By going digital, all participating parties in the flow can rely on the following assurances:
The documents are genuine. Digital platforms -- especially platforms based on DLT -- can guarantee that documents have not been tampered with after the upload.

The issuer is verified. By recording the signature of the private key of the issuer on the DLT, all involved parties can be certain who created or transferred the document, and who owns it.

The documents are not duplicated. With DTL the transfer of title is completely transparent and clearly visible to all parties. An indisputable logbook provides input into who had had the title at precisely what time.

The data can be easily exported and imported. Paper requires manual processing. The digital transfer allows structured data, which means systems can exchange data without errors, omissions, and -- most importantly -- without personnel spending unnecessary time on mundane tasks.
Let's do it!
This first project of this magnitude in human history faces numerous challenges, but freight capacity does not seem one of them, concludes LSCMS. Production and allocation of vials, along with supporting cooling assets, will be phased, and transportation can be diversified into several modulations and segments. 
The main challenge will be keeping the delivery chain cool enough at all times while keeping a track and record of the events, and providing transparency to avoid disruption and potential malpractice. This requires highly advanced shipment management, capacity, and facility coordination, with data and documentation transfer optimization for real-time visibility, based on standardization for a globally transparent solution.
We at CargoX strongly agree with the LSCMS -- Vaccine Deployment Ecosystems (VDEs) should be implemented as soon as possible. We know that leading institutions -- the United Nations, the European Union, the United States, China, and other large countries -- are racing towards that goal, to provide a cure for everyone. 
In this, we are convinced that using a fundamental solution based on a neutral, public, and global blockchain is the only way to meet the challenge's demands. Even if it means raising a completely new blockchain mainnet! 
REFERENCES: