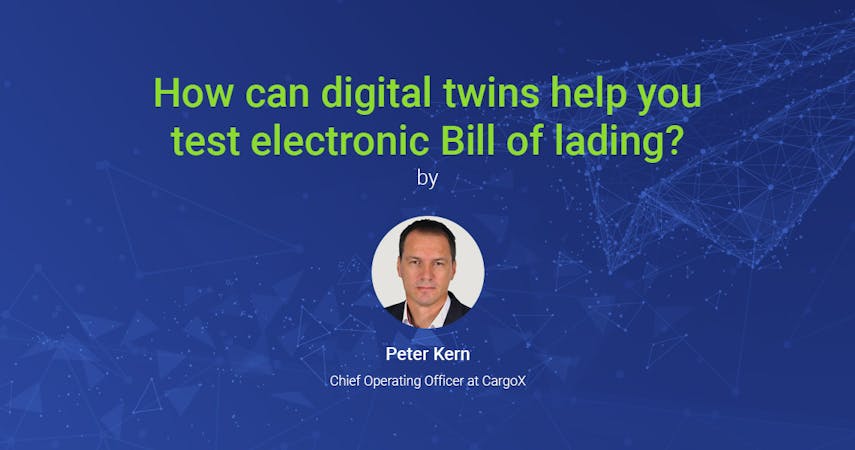 How can digital twins help you test electronic bills of lading?
- Peter Kern is the COO of CargoX Ltd., with almost two decades of experience in leading positions in the shipping industry 
"A digital twin is a virtual representation of a real-world product or asset. Digital twins are now being used to manage the performance, effectiveness, and quality of a manufacturer's fixed assets such as manufacturing machines, lines, and plants. When advanced visualization, IoT, and analytics are applied to these assets, manufacturers can take a more strategic and holistic approach to asset management. Digital twins represent an enormous opportunity for manufacturers, including engineering, design customization, production, and operations." - Digitalist Mag
Manufacturing, engineering, and other industries use the digital twins to simulate, predict, analyze, and optimize the behaviour of real-life products and assets - machines, vehicles, systems, etc. This helps them find better parameters for their operations.
The concept of digital twins is no stranger to the shipping industry. They have been deployed for analytical models, information models, visualization, time-domain models, data capture and processing, algorithmic control, and communications virtualization. So, they are well known and are deployed for some of the most advanced problem solving. 
So, what does a digital twin have to do with the bill of lading and the letter of credit?
The business of shipping itself is a heavy physical process of moving goods from one place to another - slowly and with multiple companies involved. All process partakers must protect their interest as best as possible. Throughout the last couple of centuries the title to the goods has been documented and transferred on an independently transferred paper document called a bill of lading. It is slow, expensive, and prone to error or tampering. And as the bill of lading has been highly praised for so long that some companies have had quite a hard time letting go of the paper medium and leveraging some of the available modern technologies to make everything much easier for themselves. 
Similar to the shipping industry, the financial sector is also extremely careful when building trust with companies around the globe that are involved in global trade and cash flows. These processes, too, are built on the movements of physical paper documents, as this helps secure trust and auditability all across the board. 
The most digitally enabled companies in the world do not hesitate to try new technologies. 
Shippers designate special shipments and they process the bill of lading, or other documents, electronically, through platforms like the CargoX Platform for Blockchain Document Transfer (BDT). 
In their process, an electronic bill of lading, or a Smart B/L, as CargoX refers to its blockchain-based B/Ls, is uploaded, signed, and transferred through the platform in an instant. It can be designated as the sole original document of title - signed and transferred to the recipient in a matter of mere seconds.
What will other companies do? 
The companies can also decide to use the electronic bill of lading as a digital twin of a paper document.
In this case, the original paper document still travels its path with courier services and is transferred to the port of destination into the hands of the release agent. The digital twin electronic bill of lading is in this case used for performance evaluation purposes or for proving the speed, reliability, confidentiality, and immutability of the digital platform for document of title transfer. 
The shipping line operator, exporter, and importer can hold on to their current process of handling a paper bill of lading. The title is still transferred through the paper document, and processed in a standard way - written, edited, printed, signed, and stamped, then sent with courier services. Business partners sometimes wait for it for a couple of days or weeks - and start breathing normally again when the document arrives intact. The digital twin, though, actually arrives in an instant. 
A new era for financial documents
Similarly, financial institutions and organizations have the chance to test and see how they can digitalize their processes and the underlying document flow. Letters of credit, typically processed in analogue form, can now be presented as twins in electronic form, with the accompanying documentation, with complete auditability and immutable proof of origin and ownership. This way, companies can gain an insight into the digital future. 
All this is possible because CargoX is using verifiable electronic signatures for the non-manipulable electronic endorsement of bills of lading. This method is perfectly suited to tracking and auditing the endorsement of a negotiable bill of lading to ensure frictionless goods and funding movements in the world's increasingly dynamic business environment. 
Such an approach to safely field-test the new technology of speedy, tamper-proof, and much more cost-efficient blockchain document transfer can play straight into a company's hands. They can see the possibility of instantly improving their document processes and lowering their operational costs, but they can still rely on the original paper document (to the level to which the paper medium is reliable). 
Twins, but not exactly identical
The scientific theory says that the digital twin concept consists of three distinct parts: the physical product, the digital/virtual product, and connections between these two products. All these elements exist in the proposed way of handling bills of lading - for the purpose of evaluation - in a way that a parallel electronic process runs.
The yield for companies testing this approach is clear: not just processing improvements, but they can see how the transition from paper documentation to electronic document of title transfer can bring them numerous new benefits. 
Besides speed, reliability, and cost-effectiveness, and highly encrypted document tokenization, there are also possibilities of introducing automatic electronic process triggers, a distributed document repository, options for dispersed team work, contactless document processing, bespoke workflows, predictive analytics, workload planning, audit capabilities with an immutable trail, confidentiality, privacy, transparency, and accountability features.
So, to compare - you cannot move a whole ship of cargo into a computer digital network, you can represent it in a digital system. But the documents of title can be completely digitized! An electronic bill of lading can be a digital twin of a paper document - and at the same time, it is so much more. 
On a personal note: I have worked in the shipping industry in leading positions for almost two decades. From what I have seen in recent years, the idea of using such a multi-functional technology for document process digitalization, data consolidation, performance optimisation, and automation excites even the most visionary shipping executives. Gone are the times of wondering where the document currently is - and the electronic document can actually tell you so much more. The big ships in the business have already started moving ahead!
To see all the benefits and start evaluating the digital future of shipping, register your free account on the CargoX Platform for Blockchain Document Transfer (BDT) and book an appointment with our consultants.