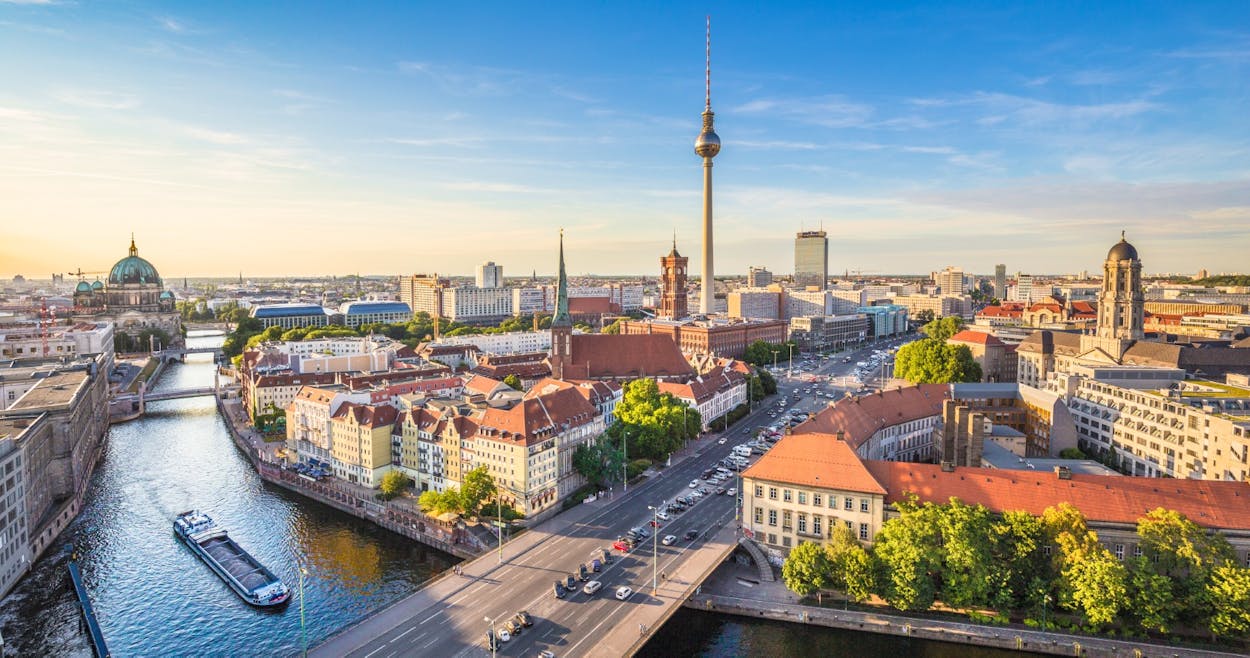 In the center of Europe lies a bustling hub for technology and innovation – Berlin, Germany. It is true that if you have heard about Berlin, then you may have heard of a vast array of successful startups founded, headquartered, or held a major office here. Among them, giants such as Soundcloud, N26, FreightHub, Auto1, Zalando, Babbel, Hello Fresh, Google, SAP, Delivery Hero, Amazon, Seven Senders, and the list goes on!
Evidently, the German capital has been the cornerstone for the success stories of many high-profile names that make up a part of our everyday lives and power the lifestyles we are so used to. This is not by any chance coincidental, but rather incidental. It is the result of a mix of a large influx of highly-skilled workers, coupled with a tendency towards digitalization and surrounded by a booming economy comprised by a multicultural labor force – making it the perfect recipe for superior strategic positioning!
The business model at CargoX plans for global expansion and adoption. We value the work ethic in the German capital and nation after ranking first in the global Logistics Process Index in 2018. CargoX offers cutting-edge technology, revolutionizing and optimizing cumbersome logistics processes, so it made sense to make our mark with an office right where the leading participants of the industry are.
CargoX has been fueled by organic growth in recent months, so the team started taking action on its positioning strategy. Now, CargoX is proud to announce the first steps to multiply its influence in German territory! The decision was supported by thorough probability market studies on the likeliness of blockchain technology adoption.
According to a survey performed by Kühne Logistics University, 37% of logistics companies in Germany are looking into implementing blockchain solutions and 20% are already on it.
This is a very lucrative opportunity, as blockchain entails smoother interactions between potential business partners. Berlin is a great place to start, as those potential business partners include tons of forward-thinking companies that understand the future of blockchain well. Here we don't need to lose energy debunking erroneous prejudice that blockchain applications are limited only to cryptocurrencies.
CargoX insists on offering only the best services to our current business partners and future partners. That makes the talent of our team members an utmost priority. All team members have advanced qualifications, supplemented by robust business acumen in order to ensure that CargoX's paramount interests are represented properly.
There is a significant amount of complexity when merging highly profound fields (blockchain and logistics) to deliver an innovative solution to customers. The team must accordingly have vast expertise in both fields and be able to clarify concepts at any level of the hierarchical business structure. This can be challenging from a recruiting point of view, but sometimes things that are meant to just flow naturally.
That is how they found me, Francisco Montenegro – Project Manager for CargoX. I was researching the implementation and capabilities of blockchain technology in logistics and supply networks. Through this endeavor, I reached out to CargoX and they were happy to comply, providing me with constant communication and assistance to every inquiry. It is here where we got to know each other and realized there was synergy potential in me joining the team.
Having a bachelor's degree in International Trade, and a masters in Supply Chain Management specialized in Logistics Systems Engineering, it was evident that my academic profile is on par with CargoX standards. Having lived and worked in El Salvador, the United States, Spain, Latvia, and Germany guaranteed a seamless understanding of the various business practices around the world – a characteristic of great value in the light of global expansion and something that our future partners can appreciate.
In the end, I will be managing the project to open an office in Berlin along with providing all the support needed as new developments arise, helping CargoX reach its goals of global expansion. The first steps toward reaching this long-term goal have been taken. The plan is set in motion and I will be working at the Enklave, one of Berlin's finest co-working spaces. It is here where many tech startups come together and expand their network while they get their job done.
These initial steps will increase CargoX's presence in the region and help it position itself effectively to tackle the upcoming challenges. Especially those challenges caused by the trend of resistance that surrounds emerging technologies in the midst of heavy competition and on the cusp of innovation.
Beyond technological change, the prevailing notion that will come is a change in the way business relations are conducted. What better place to embrace such a change like Berlin, a city of freedom and tech innovation? Where John F Kennedy once said:
'All free men, wherever they may live, are citizens of Berlin. And therefore, as a free man, I take pride in the words, 'Ich bin ein Berliner!' ' [I am a Berliner (citizen of Berlin)!] — John F. Kennedy, U.S. President, 1963
So - stay tuned in and don't drop out, many surprises are brewing on the horizon!
Francisco Montenegro is a CargoX Project Manager residing in Berlin. He has a bachelor's degree in International Trade, and a masters in Supply Chain Management specialized in Logistics Systems Engineering, acquired at the Technische Hochschule Wildau. He has worked and lived in El Salvador, the United States, Spain, Latvia, and in Germany.
Photo: Shutterstock