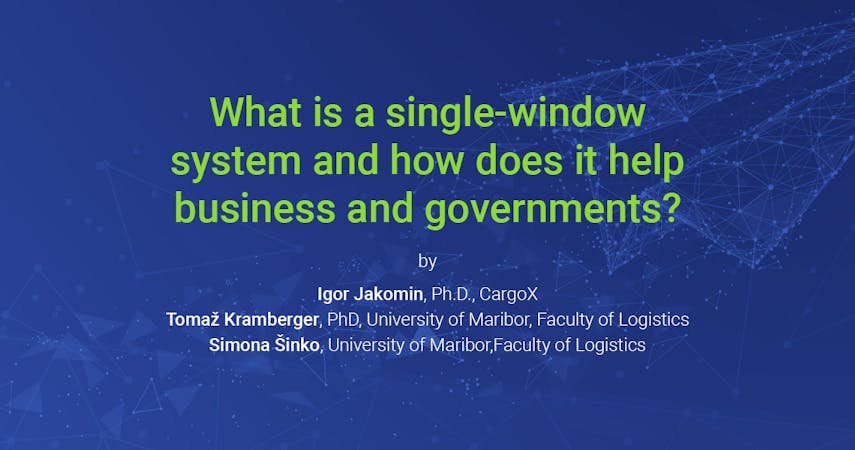 What is a single-window system and how does it help business and governments?
International trade and customs processing are fundamental processes that enable the global economy to grow and societies to prosper. 
All these processes demand not only great production and shipping capacities, but also extensive coordination, documentation, and exact import cargo entry control to ensure safety. At the same time, customs imports must be processed quickly, taxes need to be collected according to the goods' value and classification, and loading and storage facilities must be kept congestion free.
No big deal, right? Yeah, right … 
The sheer volume of document and information flows, necessary controls, coordination, analytics, and other processes can be overwhelming for any organization, even the best ones. 
Some tasks are performed multiple times on copies of documents, document processing is prone to human error, and visibility of the inbound cargo, and tasks to be performed urgently, is diminished. Documents can get lost, damaged, sent to the wrong place or delayed, damages can arise, and in the worst case, the cargo is late to the final consumer, or it might even not arrive at all. 
Single window, multiple efficiency
That is why numerous countries have deployed the concept of a single-window system to facilitate trade. 
In short, a single-windows system is a trade facilitation concept that allows international traders to provide information for various official agencies through one single point of entry to fulfill all import-, export-, and transit-related regulatory requirements. 
This information and documents may include ACI declarations, customs declarations, applications for import and export permits, sanitary and health certificates, summary data, certificates of origin, invoices, bills of lading, packing lists, and anything else that is required to import goods into a specific country. 
Besides easy entry and the one-stop-shop concept of managing import procedures for traders, exporters, and the customs and other agencies, other benefits include increased efficiency of processing, streamlined workflows, and impressive savings. The need to file applications with multiple organizations at multiple physical locations is gone, and process tracking is improved tremendously - for the importer and the customs office, but also for potential supervisory agencies.
It is clear that the most efficient single window implementations are digital, employing technology and possibly utilizing blockchain for an immutable record of information. In the world of analog processing, a single window processing point can also be organized in a non-digital environment, with the cooperation of all relevant authorities. 
Major benefits of a single-window system
According to UNECE, a single-window project, if implemented effectively, can translate directly into following benefits:
For a government as a whole: increase in government revenue, increased compliance with rules, improved efficiency in resource allocation, better trade statistics

For economic operators, such as traders: faster clearance times, a more transparent and predictable process, and less bureaucracy

For an administration such as customs: improved staff productivity through the upgraded infrastructure, increase in customs revenue, a more structured and controlled working environment, and improved professionalism

For the national economy as a whole: improved transparency and governance, and reduced corruption due to fewer opportunities for physical interaction
The single-window system, especially at a national level, will connect the following entities (as needed):
Trader (exporter, importer, etc.)

Customs offices

Phytosanitary inspection/food and agriculture agencies

Health agencies

National security agencies

Shippers

Port authorities

Any other entities involved in the process
Benefits for governments
Governments and governmental agencies will especially enjoy the benefits of a single-window system.
Agencies can predict and more accurately tax the tax revenue yields. 

The level of trader compliance is greatly improved, as it relies on systematic compliance enforcement.

Sophisticated risk management techniques are enabled for control and enforcement purposes.

Resource deployment is more effective and efficient.
Typical implementation model
One of the frequently used models of single-window development was drawn up by the UNNEXT group, the United Nations Network of Experts for paperless Trade. They used a reference model to determine the current state of single window implementation and the next stages:
Stage 1 represents paperless customs, e-payment for customs duties, container loading lists, simple e-document exchanges with port authorities and/or terminal operators.

Stage 2 involves connecting other government back-end IT systems, e-permit exchanges with paperless customs systems.

Stage 3 connects e-documents exchange stakeholders within the air/sea/dry port community.

Stage 4 provides an integrated national logistics platform with traders and an information exchange for logistics-service providers.

Stage 5 provides a regional information exchange system.
In implementing, countries have different approaches - some have recently deployed the most modern integrated technological solutions, while others have been building their single-window capacities in stages.
Among the single-window systems, for sure the concept of a national single window is the most meaningful way of organizing all governmental agencies into one single, streamlined processing point. 
Many countries have developed specialized port community systems (PCS), single-window systems dedicated to the needs of a port. 
One important aspect of the single-window system is also funding. There are several approaches - sometimes, a specialized company develops the solution with optimized technology and maintenance protocols, and sometimes governmental agencies take on the development themselves, either with assistance from the IT industry, or with in-house knowledge. There is no rule whatsoever. 
Worldwide adoption
This concept is being promoted heavily by numerous global trade facilitators. Just to name a few:
United Nations Economic Commission for Europe (UNECE) and its Centre for Trade Facilitation and Electronic Business (UN/CEFACT)

World Customs Organization (WCO)

United Nations Network of Experts for Paperless Trade and Transport in Asia and the Pacific (UNNExT)

Association of Southeast Asian Nations (ASEAN)
It is estimated that all major global economies have developed and implemented some form of a single window system for trade facilitation. Countries in Africa, Asia, and Latin America started or completed national single windows quite early, while countries in the European Union have lagged with the development. 
The United States implemented their Automated Commercial Environment single-window system in 2015, when filing electronic manifests through ACE has become mandatory, and since then all electronic cargo release and entry summary data has only been submitted electronically. 
Among the early predecessors of national single-window trade facilitation systems there were simpler EDI (electronic data interchange) and VAN (value added network) concepts. Among the earliest solutions included the Hong Kong Trade Local and International Network (HOTLINE) in 1984, Tradelink system in Hong Kong since 1997, TradeNet in Singapore, the Japanese Trade and Settlement EDI System (TEDI), and the Saudi Arabian SaudiEDI, which since 2002 has been linking trade users through electronic gateways to customs, port authority, and other government agencies. This was at a time when online applications, used through web browsers, were not standard yet - and that has changed since then. But the concepts were there. 
Analysis of effects for traders
The UNESCAP, United Nations' Economic and Social Commission for Asia and the Pacific, which serves as a regional hub promoting cooperation among countries to achieve inclusive and sustainable development, published in 2018 the Single Window for Trade Facilitation: Regional Best Practices and Future Development report and study of effects of implementing single window systems, or rather environments, in three key Asian countries. Their survey of participants using single window showed, among other details, that:
10% noticed a reduction of cargo clearance time (24% average estimated reduction)

32% noticed faster approval from government agencies

7% noticed better coordination between agencies

61% noticed there were less documents needed for verification

22% more simplified procedures for cargo clearance

3% noticed significant cost savings (19% average estimated savings)

7% noticed all of the above 
The full report is available on this UNESCAP.org link.
Benefits of business process re-engineering/reform
Additional features needed in a single window
The case of the Republic of Korea
There are not many coherent studies available about the cost-saving effects of single-window systems. One of them comes to mind, though. Even back in 2009, the Hyundai Research Institute published a Research Report estimating the economic benefits of paperless trade in the Republic of Korea as a result of their paperless environment, enabled by the uTradeHub integrated platform. 
Their estimate was a saving of 1% or about 3 bn USD, in an economy that then exported around 363bn USD of goods: 
263m USD - Labor costs 

19m USD - Printing cost

272m USD - Circulation and storage costs

1360m USD - Warehousing costs

750m USD - Inventory management costs

318m USD - Redundant investments in IT 
A simulation model for Republic of Slovenia
Another interesting study by University of Maribor, Faculty of Logistics in Celje scholars Simona Šinko and Tomaž Kramberger, analyses the projected effects of implementing a single window system in Republic of Slovenia, including the national Slovene maritime agency, Slovene customs office, Health inspectorate, the Police, the Port of Koper, and the maritime agent.
The simulation, which included simple cargo, complex cargo, and sensitive cargo processing, including the agencies that needed to partake in the process, determined that the single-window system should result in approximately 51-52% of time savings just for data entry alone. This information does not include time and cost savings that could arise from complete process digitalization, thus excluding the need to send documents with courier services and also spend more money in the process.
Challenges for the future
One of the most important challenges for national and other single window systems in global trade is - yes, you guessed it - interoperability. 
Many things are in the pipeline for strengthening international collaboration with common interconnectivity strategies, policies, data models, and standards - and the Covid pandemic has done a lot to accelerate this process. 
Interoperability fundamentals and data harmonization standards have already been provided by the WCO World Customs Organization Data Model and Core Components, and through other standardization bodies and international organizations. 
Another ongoing activity is data consolidation. One great case is Singapore, which a while back simplified and harmonized more than 20 documents into one single, electronic form, and which recently implemented the UNCITRAL Model Law for Electronic Transactions (MLETR), providing simplified electronic document transfer and processing as only the second country in the world.
The next major challenge is already at hand. It is about implementing modern single-window systems with public blockchain, so that the information is unhackable, always verifiable, tamper-proof, and traceable to the original! This is where CargoX has a market-leading solution.  
References
- Jonathan Koh Tat Tse: Ten years of single window implementation: lessons learned for the future
- United Nations Trade facilitation implementation guide
- United Nations Centre for Trade Facilitation and Electronic Business Recommendation and Guidelines on establishing a Single Window, Recommendation No. 33
- CustonsCity: What is a Single Window System?
- M. H. Abeywicrama and W. A. D. N. Wickramaarachchi: Study on the Challenges of Implementing Single Window Concept to Facilitate Trade in Sri Lanka: A Freight Forwarder Perspective
- United Nations Economic and Social Commission for Asia and the Pacific: Single Window or Trade Facilitation - Regional Best Practices and Future Development