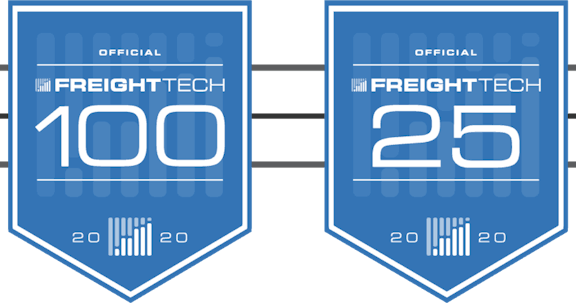 CargoX among the hot 2020 FreightTech 100
(Chattanooga, USA - 22 October, 2019) - CargoX has again been nominated among the best companies in the freight and logistics field. This time, FreightWaves has nominated CargoX to be one of the FreightTech 100 award winners among more than 1,200 nominations and companies like Amazon, Tesla, Uber Freight, to name just a few. 
FreightWaves, the industry-leading provider of 24/7 news, data and analytics for the global freight and logistics markets, announced the winners of the 2020 FreightTech 100 Awards. The top 100 companies include, besides CargoX, also Amazon, Daimler, Delta, DHL, CargoX partner dexFreight, Cargomatic, FedEx, Flexport, Freightos, Maersk, Phillips, Peloton, UPS, Uber Freight, Toyota, and even Tesla. See the full list here.
"CargoX is yet again proving that our solution brings great functionality and a revolutionary improvement to the whole logistics sector, which heavily relies on freight technologies. We could not have been more pleased with this award. It puts us on the same charts with the big names of logistics, freight, and transportation industry, and we are glad that with some of them we are already collaborating in tests or integration activities," said Stefan Kukman, founder and CEO of CargoX. 
The FreightTech 100 highlights the most innovative and disruptive companies across the freight industry, featuring both cutting-edge upstarts and top-notch traditional powers. This year's list includes 70 returning companies from last year's awards and 30 first-timers. 
"This is not a 'pay to play' competition. The companies that make it into the FreightTech 100 do so because they are changing the freight industry in new and dynamic ways," FreightWaves CEO Craig Fuller said. "We want to recognize the most innovative and disruptive companies out there." 
This year's FreightTech 100 list is the result of over 1,200 nominations for 255 unique companies. The company that received the most nominations this year was nominated almost 225 times. 
The FreightWaves voting committee was made up of an impressive peer group of industry leaders, investors, and academics who have agreed to participate as voters for the FreightTech 25 awards. This handpicked group has individually ranked their top 25 most innovative companies, and the results of their selections have determined the winners of the 2020 FreightTech 25 awards.  Among them were representatives of Uber Freight, FedEx, Daimler, Maersk, and others. See the full list here. The FreightTech 25 companies will be announced at FreightWaves LIVE in Chicago 12-13 November. 
Last year, the top five companies were Amazon, project44, Tesla, Convoy, and J.B. Hunt.
The full selection of FreightTech 100 companies is available here.
News & image source: FreightWaves