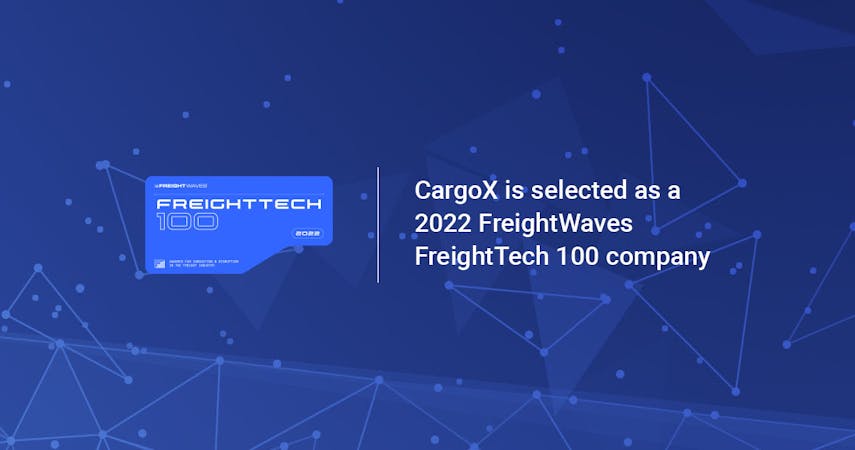 CargoX awarded FreightTech 100 among global leading innovators and disruptors for the third time
(Ljubljana, 13 October 2021) - CargoX, provider of the CargoX Platform for Blockchain Document Transfer (BDT), is proud to be recognized with the title of FreightTech 100, alongside global leaders in innovation and disruption such as Amazon Freight, DHL Supply Chain, FedEx, Flexport, Phillips Connect, Tesla, Uber Freight, Waymo, and Waze, to name a few. The final FreightTech 25 will be announced at the F3 Virtual Experience on November 9-11!

The FreightTech Awards recognize innovation and disruption in the freight industry. From the nominated companies, the FreightTech 100 were selected. The FreightTech 100 winners are currently being voted on by a peer group of CEOs, industry leaders, and freight investors who will select the top 25 companies from this impressive list.

This recognition is a clear signal that CargoX is one of the disruptors in global logistics, helping supply chain companies manage their document of title workflows in a reliable, efficient, secure, and cost-effective manner using neutral, public blockchain technology.
CargoX has been named FreightTech 100 company for the third time.

A full list of the FreightTech 100 Awards can be found here.

Winners of the FreightTech 25 Awards will be announced at the F3 Virtual Experience, taking place November 9-11, 2021. 

The F3 Virtual Experience will bring industry-leading FreightTech to life and provide a platform for interaction with industry leaders, experts, and entrepreneurs. Live interactive discussions will focus on all modes of transportation - truck, air, sea, and rail - and rapid-fire demos will showcase the technology that is driving the industry forward. It will be a great opportunity to find out who is actively innovating in freight and turning the industry around with new approaches.