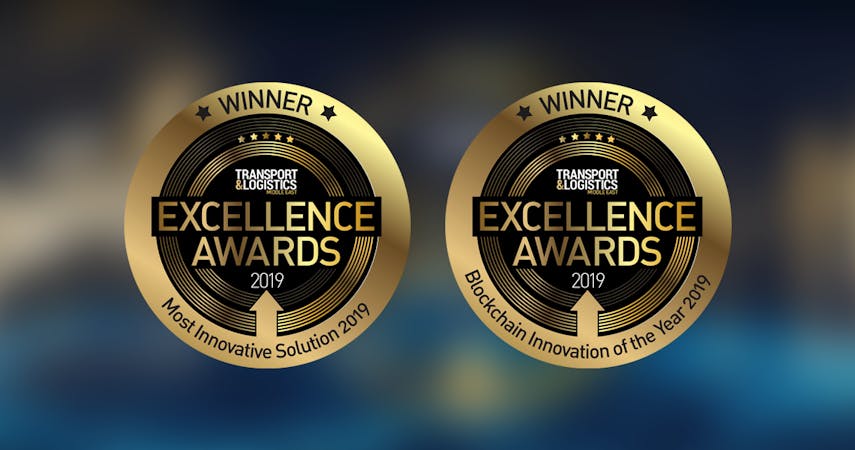 CargoX impressively voted the Most Innovative Solution 2019 and best Blockchain Innovation of the Year 2019 by a panel of global audiences and experts, against TradeLens, Panalpina Pharma blockchain, and the Digital Silk Road initiative
(Dubai, 12 November 2019) - Experts, users, and analysts around the world voted CargoX technology Most Innovative Solution 2019 and the Blockchain Innovation of the Year 2019 at the Transport & Logistics Middle East (TLME) Excellence Awards. 
The CargoX platform won in the category Most Innovative Solution 2019 for Sea Freight against Tradelens by Maersk/IBM, Traxens Container Tracking by CMA CGM, Boxbay Jebel Ali Terminal 4 by DP World, and Maqta Gateway (MARSA), as well as in the category Blockchain Innovation of the Year 2019 in technology against TradeLens by Maersk/IBM, SilSal (Maqta Gateway) Abu Dhabi Ports, the Panalpina and Kosmos Pharma blockchain, the Digital Silk Road initiative by The Dubai Chamber of Commerce and Industry (DCCI) & the Dubai Future Foundation (DFF), and the Further Network. 
The TLME awards brought together the supply chain industry's regional and global elite, welcoming the very best from the transport technologies, maritime, air, and logistics sectors. Winners were selected by a special voting system that allows industry peers to decide who reaches the very top of the industry - and all votes were validated through phone numbers.
"We are honored, we are proud, and we are humbled by our amazing double win, especially as we were competing in categories with such respected projects by traditionally leading companies in their business segments. 
Both awards are a clear signal that the shipping industry wants and needs neutral public blockchain solutions. With both awards, we accept the responsibility to strive to provide interoperability and compatibility with all meaningful blockchain solutions in the market. 
We are sure that together with other initiatives, we can improve the shipping business as a whole, for every partaker in the market, as well as for the better good of consumers," said Vjeran Ortynski, CBDO of CargoX, when accepting the awards at the gala ceremony in Dubai. 
The Transport & Logistics Middle East (TLME) Excellence Awards are now in their second year after a highly successful inaugural event in 2018. This year's event was bigger, better, and more in-depth, with more than 550 guests attending from all segments of shipping and logistics.
The organizers of the TLME 2019 emphasized all the nominees are celebrated for their cutting-edge thinking, innovation, and outstanding operations, as they herald the processes and people that are changing the world for the better. With a passion to champion those that envision the future of the supply chain, the TLME Excellence Awards set a new standard in how the sector's incredible achievements are broadcast to the world.

More about the Transport & Logistics Middle East (TLME) Excellence Awards