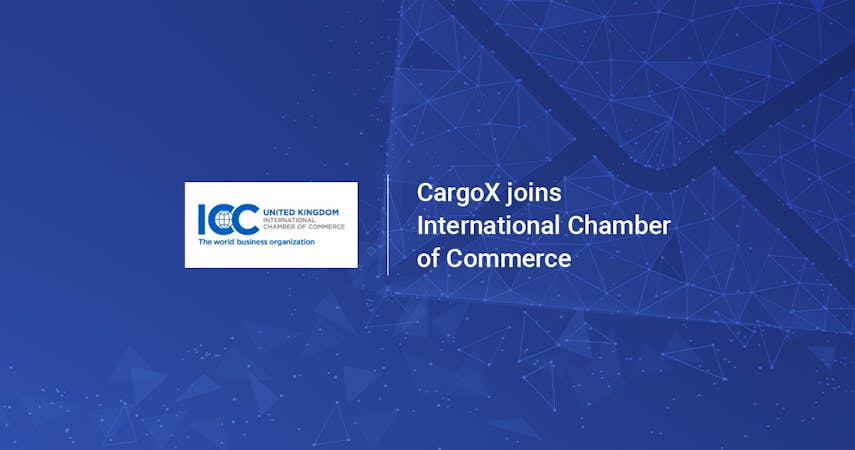 CargoX joins International Chamber of Commerce
(Ljubljana, Slovenia - 12 May 2022) -- CargoX has joined the International Chamber of Commerce, a business organisation covering 45 million companies, 1 billion employees in more than 100 countries.
ICC is a thought leader and leading policy and guidelines contributing body in the global banking & finance, competitive markets, digital growth, diversity, global governance, innovation & IP, responsible business, trade & investment, counterfeiting & piracy, among others. 
"The importance of CargoX becoming part of a concerted global policy-making effort to promote global trade digitalization is enormous. We are devoted to building a truly interconnected global ecosystem of platforms and solutions to usher completely  paperless global trade, trade finance, and other document flows – while at the same time ensuring the highest level of digital trust based on public blockchain technology," said Stefan Kukman, CEO of CargoX.
ICC – unrivalled understanding of global business 
Through a unique mix of advocacy, solutions and standard-setting, ICC promotes international trade, responsible business conduct and a global approach to regulation, in addition to providing market-leading dispute resolution services. ICC members include many of the world's leading companies, SMEs, business associations and local chambers of commerce.
In the broader sense ICC represents business interests at the highest levels of intergovernmental decision-making, including at the World Trade Organization, the United Nations and the G20 – ensuring that the voice of business is heard. It is this capacity of building a bridge between the public and the private sector that sets ICC apart as a unique institution, responding to the needs of any stakeholder involved in international commerce.
Emphasis on scaling action globally 
ICC has a vital role in scaling widespread action on sustainable development goals and a long history of formulating the voluntary rules by which business is conducted every day – from internationally recognised Incoterms® rules to the UCP 600 Uniform Customs and Practice for Documentary Credit that are widely used in international finance.
Leading experts on trade and related industries
ICC's unrivalled understanding of business arises from the expertise of its members, most of whom are involved in international commerce.
In addition, ICC specialises in world-class business and legal training, and is an industry-leading publisher of practical tools for international business, banking and arbitration.
From banking regulation and global taxation to ethical marketing and climate change, the strength and legitimacy of ICC's advocacy work and rule-making derive from the fact that they are developed through extensive consultation with member companies.
At present, close to 3,000 experts make up the specialised working bodies that establish the ICC business stance on a broad range of issues.
ICC Centre for Digital Trade & Innovation
The most recent development in the ICC is the opening of the ICC Centre for Digital Trade & Innovation (C4DTI). It is an ICC United Kingdom-led global initiative based in the Tees Valley. C4DTI is a public-private partnership led by industry and supported by the UK government. Its core mission is to accelerate the digitalisation of UK trade, and support the implementation of open systems, based on shared international standards, and a paperless, sustainable and secure digital trade system.
C4DTI will be impartial and technology agnostic in approach, and have the capacity to engage industries of all sizes and sectors, identify and remove policy barriers and pilot practical solutions to help drive innovation, technological solutions and standards adoption at scale across the whole trade system.
More: