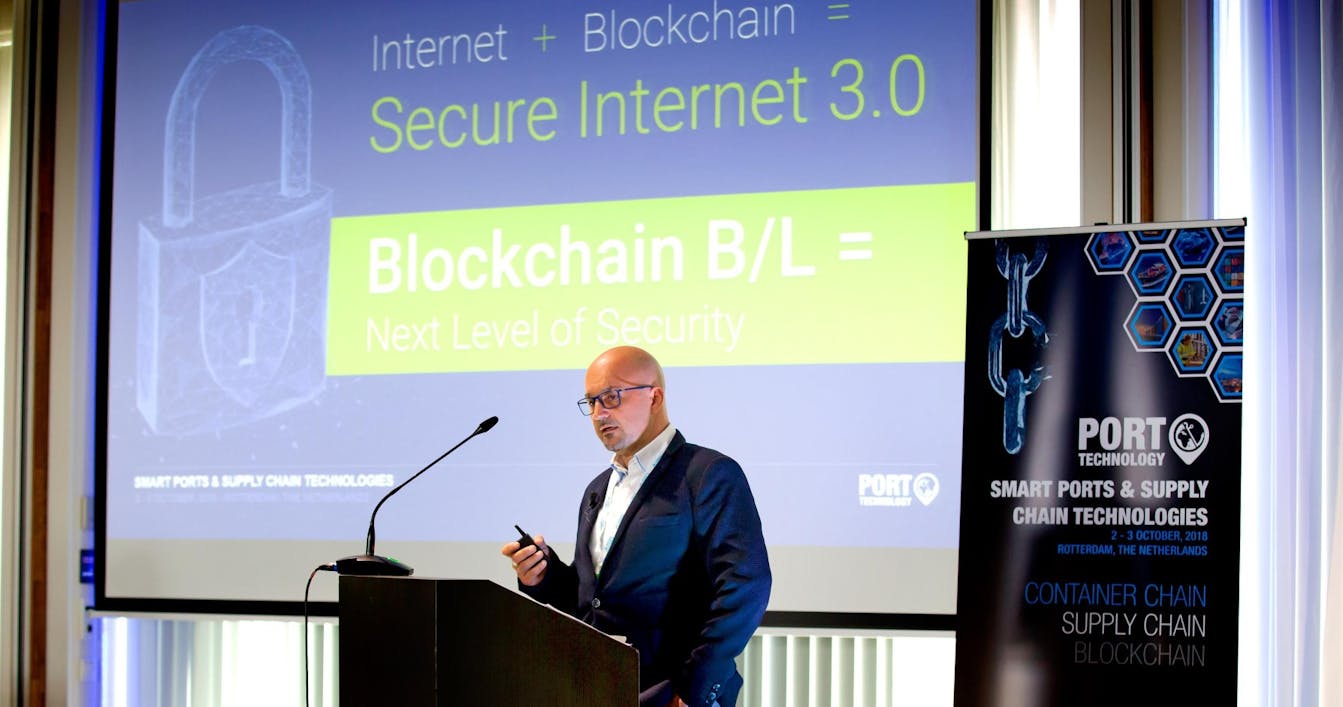 CargoX leading blockchain provider at the Smart Ports & Supply Chain Technologies conference
(Rotterdam, 2-3 October 2018) - Igor Jakomin, COO of CargoX, presented the CargoX Smart B/L™ at the Smart Ports & Supply Chain Technologies conference, held by the cargo industry's leading journal, Port Technology, in Europe's premier port city of Rotterdam.
This year's conference was dedicated to bringing together the smart port & supply-chain ecosystem. As Wolfgang Lehmacher, of World Economic Forum, put it: "The digital transformation requires more parties than ports alone. It is the shipping industry as a whole and the entirety of players along the chain that have to progress towards common goals."
The two-day event has united senior-level thought leaders from key industry front runners to discuss the imperative for ports to become 'smart', intelligently integrate the end-to-end supply chain, and stay ahead of technological disruption in the ecosystem.
Igor Jakomin, Ph. D., COO of CargoX, presented the CargoX Smart B/L™ solution within the context of blockchain and data sharing sessions, where talks were held about capitalizing on blockchain opportunities. This is where CargoX really stood out as the one company that already has a production-ready product, which is set to reshape global trade.
"Blockchain is clearly the next technology for transferring value," said Igor Jakomin, Ph. D., COO of CargoX, who emphasized that, "the conference was one in a line of events we are attending after completing our Smart B/L™ solution for production-readiness. This is where we gain the most recognition in the market, as practically all important players in the industry are here - ranging from representatives of the World Economic Forum to directors from the most respected freight forwarding companies and ports. They have all validated and confirmed that we are really heard throughout in the industry, and companies are considering integrating our solution in their workflows."
Topics discussed challenges of decentralizing the management of specific processes, integrating IoT applications to the global supply chain to locate assets, developing greater communication, data sharing and integration, and tons more. The smart supply chain lectures focused on total end-to-end data sharing solutions, and collaboration & standardization.
Attendees at the conference included port authorities, port management companies and consultancies, end-to-end supply chain software providers, container terminals, terminal operators, shipping lines, freight forwarders, IoT companies, system integrators, tech giants, tech startups, incubators, cargo owners, cargo insurance companies, infrastructure developers, financiers and investors, security providers, leading university professors, supranational organizations, regulatory bodies, think tanks, and countless other players in the global shipping game.
More about Smart Ports & Supply Chain Technologies