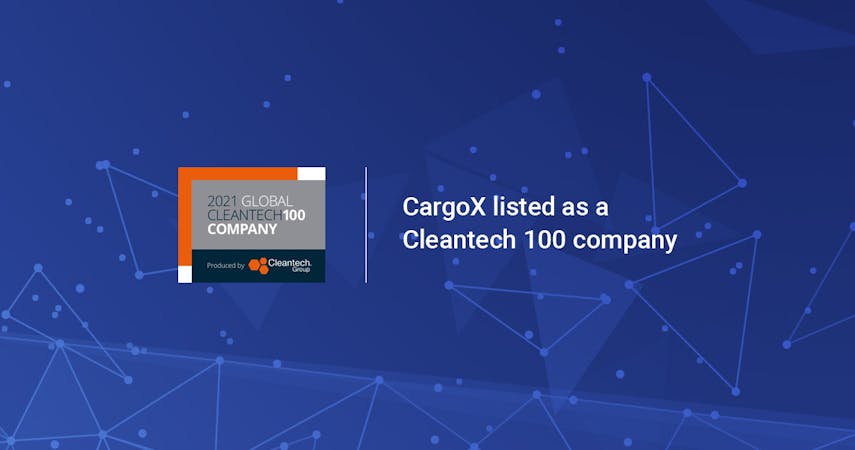 CargoX listed as a Cleantech 100 company
(San Francisco -- 15 December 2020) - Out of thousands of innovators from across the globe, CargoX was named a 2021 Global Cleantech 100 Company by Cleantech Group. 
The Cleantech Group has announced the 2021 Global Cleantech 100 list of companies, committed to delivering the future, under the slogan From Chaos to Transformation. 
Delivering solutions that will take us from climate chaos to transformation, the 100 companies on the list represent the private, independent, and for-profit companies best positioned to contribute to a more digitized, de-carbonized, and resource-efficient future. 
"We are delighted to welcome 50 companies for their first time on this year's new Global Cleantech 100. This replacement rate speaks to the healthy maturing of this innovation ecosystem and to some specific impacts of Covid-19," said Richard Youngman, CEO, Cleantech Group. "On the one hand, the 2021 list reflects the long-running mega-trends like decarbonization, digitization, electrification, and the ever-increasing volumes of deployed renewable energy. On the other, Covid-19's impact is evident – for example, in the uptick in automation and robotics-enabled solutions, in logistics and supply chain solutions, and solutions in the food chain to prevent, reduce and repurpose food waste. Resilience is a new critical factor at play."
"CargoX is proud to be listed among the most innovative companies globally. We believe innovation is crucial for business - to enable new concepts, approaches, and solutions to issues both well known and rapidly emerging in 2020. The logistics and supply chain sectors have suffered greatly, and they can only now see the extreme importance of completely digitalized document workflows. It is our great pleasure to offer the right solution at the right time, to enable frictionless, paperless global trade," said Stefan Kukman, CEO and founder of CargoX.
The list combines Cleantech Group's research data with qualitative judgments from nominations and insight from a global, 91-member Expert Panel of leading investors and executives from corporations and industrials active in technology and innovation scouting. From pioneers and veterans to new entrants, the Expert Panel broadly represents the global cleantech community and results in a list with a powerful base of respect and support from many important players within the cleantech innovation ecosystem. 
This is the 12th edition of their widely respected annual guide. This year's list includes innovators from 15 countries, with just over half located in the US and the rest hailing from Asia, Australia, Europe, and the Middle East. The sectors covered include Agriculture & Food, Enabling Technologies, Energy & Power, Materials & Chemicals, Transportation & Logistics and Resources & Environment. The Global Cleantech 100 program continues to be sponsored by Chubb, the world's largest publicly traded property and casualty insurance company.
Innovators and investors on the 2021 Global Cleantech 100 list will meet at the Cleantech Forum Europe, 12-14 January 2020, and Cleantech Forum San Francisco, 19-21 January 2021. 
Cleantech Group provides research, consulting, and events to catalyze opportunities for sustainable growth, powered by innovation. The company was established in 2002 and is headquartered in San Francisco with people based in London, Paris, and Boston.
Read more: