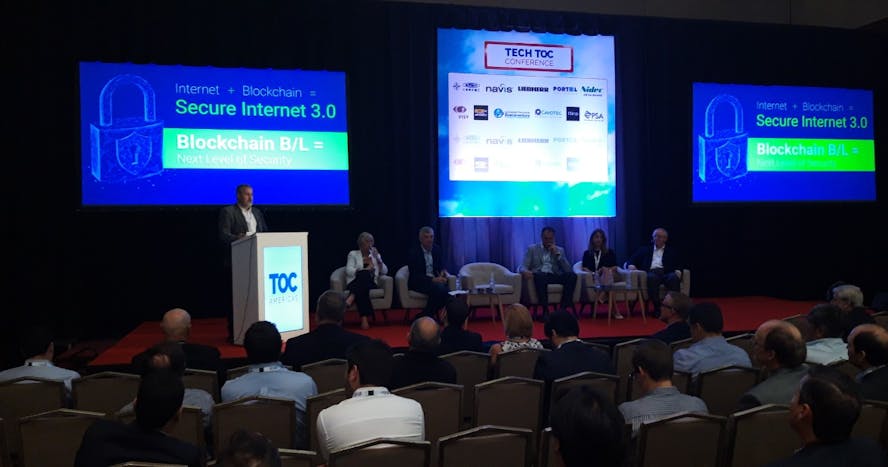 The CargoX neutral platform presented at the TOC Americas conference to digitalization aware audience
(Panama, 13-15 November 2018) - The CargoX platform was presented to hundreds of attendants at the prestigious TOC Americas conference in Panama, where the conversation focused on the challenges and realities of the transforming the shipping landscape.
Vjeran Ortynski, Chief Business Developer of CargoX, presented the platform live in front of an audience of top-level executives from the leading shipping market participants, who were invited to Panama by Jorge Barakat, maritime affairs minister, and AMP manager. The main questions the conference posed related to the prospects for global trade and infrastructure investment, and the improved, virtually limitless possibilities that have opened up after two decades of dynamic growth and foreign investment into Latin and Central America. Many ports in the region have made substantial progress in improving their port infrastructure.
"All the market participants are aware that digitalization of business is imminent if a company wishes to participate in the market successfully. But it is also true that blockchain acceptance is not complete yet, companies are still discovering and analysing its' potential, as well as whether the large, closed blockchain platforms provided by the shippers are a good idea - and everybody currently compares them to the neutral and open platforms, provided by independent IT/blockchain solution providers, such as CargoX," said Vjeran Ortynski, CBDO of CargoX.
The conference organizers emphasized that for the first time since 2010, container lines posted their first profitable year in 2017 and that this achievement will be repeated in 2018. The shipping industry in the Americas is now embracing the expanding Panama Canal locks. This is now open to 80% of the world's tonnage, and it continues to change the dynamic of the American and worldwide supply chains.
TOC Americas drilled down into the macro and micro issues facing supply chain stakeholders. Sessions were held about the prospects for maritime trade, the modernization of supply chains, the ongoing impact of digitalization, the impact of the new shipping alliances, and opportunities for logistics service providers both on land and at sea.
Among the speakers, Danillo Figueiredo, VP of International Logistics, AB InBev, pointed out that "Blockchain technology will be transformational to our business and the world". This led to a great discussion about simplifying the current paper-heavy procedures in the shipping industry, and about the benefits of adopting blockchain technology: the real-time update on the movement of goods, higher accuracy through automation, transparency, increased security, and cost-saving. The underline of the debate was that with an astounding $14.2 trillion to be realized through digital business by 2022, the time for digitalization in shipping is now.
More about the TOC Americas conference