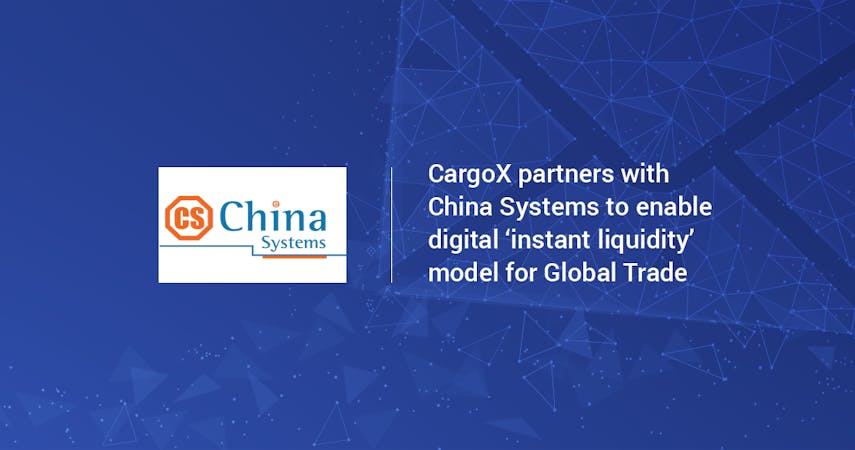 CargoX partners with China Systems to enable digital 'instant liquidity' model for Global Trade
(Nanjing City, China, 21 October 2021) – China Systems, the global provider of trade and supply chain finance solutions, has partnered with CargoX to seamlessly integrate the blockchain processing of electronic Bills of Lading and other trade documents into their Trade and SCF platform. The integrated solution bridges physical and financial supply chain processes based on a digital handshake between buyer and supplier, triggering receivables financing.
Fully digital re-engineering of paper-based processing
In August, China Systems announced the concluded development of their end-to-end Digital Collections with Receivables Financing, a fully digital re-engineering of a paper-based process by integrating different platform service providers in a campaign to instantly unlock working capital through a frictionless and highly secure API based exchange of commitments between buyer and supplier. 
Among their basic platform building blocks is the CargoX Platform for Blockchain Document Transfer (BDT), which facilitates a blockchain electronic Bill of Lading transfer of ownership. By way of a buyer's acceptance of a digital Bill of Exchange, the China Systems' platform automatically prompts the transfer of the electronic Bill of Lading's ownership to the buyer, simultaneously setting off the finance flow by the remitting bank to the supplier. Through this collaborative workflow, a secure real-time digital handshake between trading partners is created, without having to rely on a single piece of paper.
Joel Schrevens, Solutions Director of China Systems, said: "We are pleased to be able to offer these advanced digital solutions to the Trade and Supply Chain Finance community, to help them surpass the archaic document-based processes and switch to real-time secure electronic trade processing. Besides processing accuracy, speed, improved user experience and cost-efficiency, it is most important that the new technologies reduce the risk of documentary fraud, which can often be linked to money laundering, terrorist financing, or the circumvention of OFAC sanctions or other restrictions, such as export prohibitions, licensing requirements, or controls. Codesharing our services with business and technology partners with a similar vision like CargoX is part of our holistic trade ecosystem approach. It is what our customers need and it will help in paving the digital path toward a bright future for global trade."
Stefan Kukman, founder and CEO of CargoX stated: "We are proud to become partners with such a respected provider of global software solutions for international trade. We see a huge potential for improving global trade and facilitating efficient and secure business processing, while at the same time moving whole industries in the new direction of paperless, digital, immutable financial supply chain services. Such integrations allow global trade to thrive and meet the demands of the modern world. Documents that used to travel for days or even weeks, with mediocre reliability and security, sometimes causing delays, loss, and damages, can now be delivered within minutes, and with extreme cryptographic security."
International trade and forfaiting
The China Systems solution was developed with the objective of fully adhering to the International Trade and Forfaiting Association (ITFA) dDOC specification for digital negotiable instruments (DNI Initiative) and the United Nations Commission on International Trade Law (UNCITRAL) Model Law for Electronic Transferable Records (MLETR). It has also been a key objective to apply a platform-agnostic approach as promoted by the International Chamber of Commerce (ICC). To achieve this, China Systems has fully integrated its solution with Enigio's trace: original, which is a DLT based solution, enabling the processing of freely transferable digital original documents.
China Systems is an active ITFA Fintech and ICC member, and an awardee of four SWIFT Compatible Application labels in 2021 for Trade and Payments. Their Trade Digitalisation Services (TDS) team is specialized in designing and implementing digital operating models, leveraging modern technologies (AI, IoT, DLT, data analytics, digital signatures), with a strong focus on creating a superior user experience and optimized customer service model. Using its vast experience in implementing trade solutions and integrating with trade ecosystem partners, their objective is to provide high-quality services and solutions to financial institutions and to corporations, consulting firms, strategy advisors, and technology companies active in international trade.
CargoX's blockchain-powered document transfer platform allows users to easily manage digital original documents, such as electronic Bills of Lading and provides the tools for secure and instant transfers of such documents. The platform also provides transparency by including auditable histories of document ownership and changes.
Bills of lading have been an effective tool for trade finance due to their negotiability, allowing banks to finance goods still at sea without having to take control of an entire vessel. Digitally transforming these documents requires complicated registries with the support of shipping lines, banks, and corporations. However, once this is achieved, Bills of Lading become electronic and no longer require 'wet ink' to be verified.
About China Systems
Established in 1983, China Systems is known in the trade solutions industry for its scalable, future-proof, and cloud-enabled technology platform Eximbills, which utilizes an OpenAPI design to facilitate both WebServices and Microservices platforms crucial for today's multi-channel, hyper-connected, and highly interoperable environments. China Systems provides an integrated front-end and back-office platform catering for internal and external deployment at a domestic, regional or global level. Eximbills, its proven flagship solution, can be tailored to adapt to changing real-world requirements in any business or regulatory environment for Trade Finance, Payments, and Supply Chain Finance without the need for programming modification.
www.chinasystems.com
About CargoX
CargoX is a global company specializing in Blockchain Document Transfer (BDT) solutions. The CargoX Platform helps companies build trust in a trustless environment for the logistics, manufacturing, finance, trading, energy, and services industries by enabling companies to securely transfer their most sensitive documents, including documents of title. The CargoX Platform is built on the neutral Ethereum public blockchain for transaction and ownership validation.