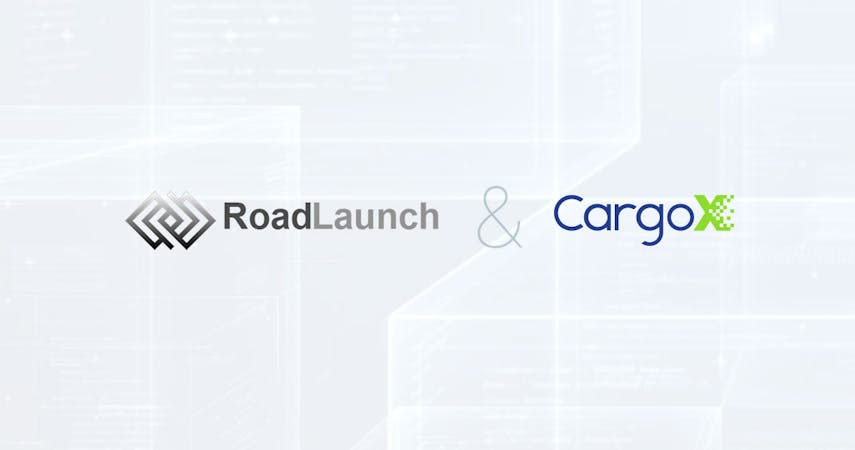 CargoX partners with IoT intelligent logistics platform RoadLaunch
(Paris(CA), Ljubljana - 29 January, 2019) - CargoX has partnered with RoadLaunch, an IoT and blockchain-based digital freight management platform with thousands of users. The move extends RoadLaunch's permission-based Hyperledger solution with CargoX's public blockchain-based Smart Bill of Lading™ solution.
RoadLaunch and their IBM solution partner provide a platform for intelligent logistics enabled by IoT-driven smart contracts between carriers and shippers. The company was founded in 2017 and currently has thousands of active road and sea carriers in five countries worldwide, with plans to add over 1000 more soon through a new partnership.
The RoadLaunch platform runs on a set of smart contracts that oversee the interactions between the participants in the network, powered by a permission-based Hyperledger Fabric blockchain, also known as a private blockchain.
CargoX and RoadLaunch will integrate the CargoX Blockchain Document Transaction System technology, powered by the Ethereum Network, into RoadLaunch's permission-based blockchain platform. The devices connected to the internet-of-things (IoT) in Roadlaunch's network and their enterprise resource planning (ERP) software will feed data regarding the transfer of ownership of the physical flow of goods into the CargoX platform in real-time and thereby facilitate the transfer of ownership digitally, in a completely secure and seamless way. Platform members will use the FactR digital wallets for next-generation logistics, settlement, audit, and reconciliation.
"The partnership with CargoX is very exciting and it brings us onto a level of next generation logistics supply chain we have not seen in today's market. The integration of the Smart B/L™, coupled with the RoadLaunch permissions based smart contracts for ground freight, will enable trusted parties to seamlessly interact on global, multi-modal transactions. This is then further advanced with FactR cross-border settlement, truly advancing transaction management," says Cory Skinner, Founder and CEO of RoadLaunch/FactR.
"CargoX's open and independent platform is highly regarded as the optimal way to transfer information of value in the digital shipping business. RoadLaunch will offer the logistics industry something very revolutionary, as the benefits of private and public blockchains merge together in order to set new industry standards.
With this integration, the RoadLaunch Platform will offer an extra layer of decentralization to their flow of information. Bills of Lading and other documents in the supply chain information flow will be properly time-stamped and transferred, and an extra layer of trust and event transparency will be added to the RoadLaunch permission-based network," – Francisco Montenegro, Project Manager at CargoX explains.
 
More about RoadLaunch
More about FactR