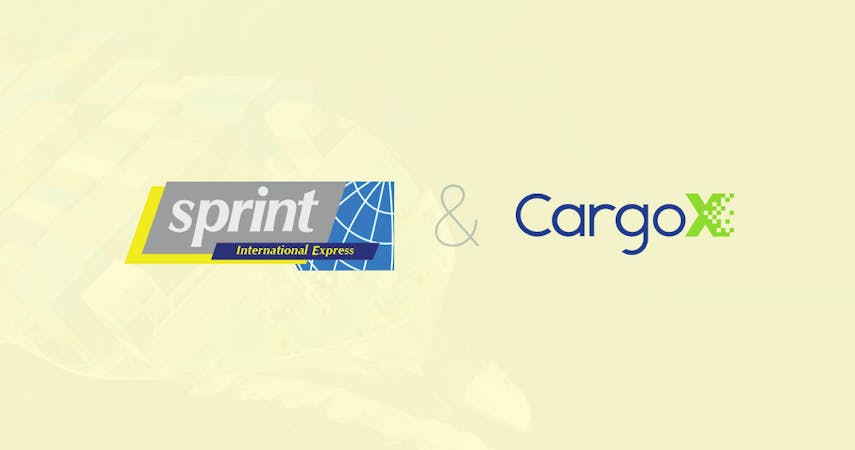 CargoX partners with Sprint International Express consolidated shipping company
(Hong Kong / Bermuda, 18 October 2018) - CargoX, the provider of the Smart B/L™, based on the CargoX blockchain document transaction system (BDTS), partnered with Sprint international Express, a comprehensive cargo, and logistics provider, to provide Smart B/L™ services to their customers.
Sprint International Express is a comprehensive cargo and logistics services provider offering 3rd party logistics, logistic warehousing, air freight, ocean freight, U.S. mailing address, customs clearance, onboard courier, domestic messenger, AOG, & NFO services. Sprint is synonymous with prompt deliveries, impeccable service, and uncompromising commitment.
Sprint's range of services includes all-around consolidated shipping and logistics services. They offer a modern logistics ecosystem that conveniently lets you choose whether to outsource whole or just a part of the supply chain. Their international air freight express services range from the emergency same day and guaranteed time-critical next day delivery, as well as less urgent certain delivery options. When it comes to ocean freight, Sprint handles full container loads, less than container loads, import and export, consolidated or project cargo.
U.S. mailing addresses are offered for internet shopping purposes, and Sprint handles every aspect of gateway clearance and delivery for customers, communicating with customs officials and offering users the most appropriate rates. Sprint also offers a worldwide on-board courier service for globally transporting packages of confidential documents. They provide domestic messenger services, and their NFO service can enable the transfer of packages across the country within a day.
Making a world of difference to every customer is the challenge Sprint embraced with enthusiasm in the time- and cost-sensitive courier and cargo industry from the day of its inception in 1998. Sprint's unmatched quality of services and comprehensive range of solutions has established the company as an innovative and market-driven courier and cargo company in Bermuda.
"The blockchain technology behind Cargo X's Smart B/L™ is very innovative and we are extremely excited about our new partnership. CargoX has streamlined the movement of B/Ls, and the solution saves time and money by virtually eliminating the loss of documentation. It enhances the process from creator to the receiver of the B/L in minutes instead of days, and the technology behind this process provides a safe and secure environment.
We are confident our customers will embrace this new form of processing and receiving smart B/L's. It will certainly make a remarkable impact on the bottom line of doing business very soon. We expect it to also fast track price quotes and minimize the movement and processing of paperwork regarding the clearance of shipments through our local customs clearance department.
We are 100% committed to working with the developers of Cargo X's amazing and innovative smart technology product on the blockchain by using smart B/L's. We believe that this is a game-changer for all Freight Forwarders, NVOCC and Shippers," said Denise Richardson, CEO of Sprint International Express.
Stefan Kukman, CEO and founder of CargoX, expressed: "I am glad to welcome Sprint International Express aboard the CargoX Smart B/L™ platform, where the most agile, modern, integrated and cutting-edge cargo and logistics service providers are starting to use the reliable, fast and cost-efficient blockchain-based blockchain document transaction solutions.
We pride ourselves on fast development, by being the first in the market with a production-ready blockchain-based Bill of Lading, and we know our partners are those who will start using the solution in the shortest time available. They provide CargoX with high-quality feedback and expectations for the future - and we will deliver new trade finance solutions they need to maintain their cutting edge in the market."
 
More about Sprint International Express