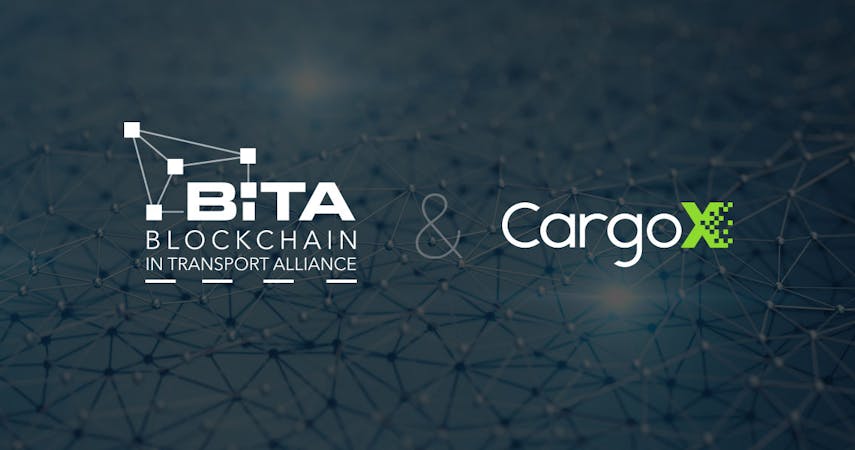 CargoX, the producer of Smart B/L, joins BiTA
(Hong Kong, 13 July 2018) - CargoX, an independent supplier of blockchain-based solutions for logistics, has become the latest member to join the Blockchain in Transport Alliance (BiTA).
With interest in blockchain technology growing like wildfire, there have been blockchain-related pilot projects sprouting up all over the world. BiTA was set up to create a platform for members to discuss and set standards across these projects and the industry.
CargoX recognized this long before deciding to become part of BiTA, as we have moved further ahead – our first specialized product, the blockchain-based Smart Bill of Lading (Smart B/L), is production-ready, and every passing day sees another outpouring of interest from each and every segment of the logistics and supply chain industry.
Soeren Duvier, managing director of BiTA in Asia, said: "CargoX has successfully raised significant capital to support the development of solid ideas into business cases for shipping industry documentation. This has eluded the industry for decades and we are proud to welcome CargoX as a member of BiTA. It is great to see CargoX recognizing the value that BiTA brings to the global transportation industry as well as our increasing community in Asia, and we expect CargoX to concentrate more of their activities in the region over time".
CargoX developed a decentralized platform based on the Ethereum network, and it has a pipeline of promising future products in place to be developed rapidly for the supply chain industry. Together with insurance companies and banks CargoX is already actively developing an equivalent to the Letter of Credit and we are also working on Switch Bill of Lading for the conventional cargo shipping industry.
We will be building an ecosystem where companies can offer their logistics services freely and accept payment in USD or cryptocurrency equally. Increased levels of trust and historic transaction traceability, based on the nature of the blockchain itself, support the vision of such a future for logistics services.
"We want to discuss with other partakers how to set standards and jointly revolutionize the logistics and supply chain industry and move forward with the digitalization of the most global industry on the planet, which would benefit all participants in the business ecosystem."
"Our CargoX Smart B/L solution is production-ready and we are already developing new blockchain-based products for business users. We find the Bill of Lading to be of unrivaled importance in the shipping and logistics industry, which is why we brought the solution to the market with lightning speed. The B/L as a document of title carries the value of the goods shipped; it must be processed safely, quickly, and at the best price possible, without damage or loss, ever - and so do other important documents in the business! This is the vision that we offer to our business customers and partners, and we are focused on proactively building the digital future of logistics," says Stefan Kukman, CEO and founder of CargoX, who has served in the logistics industry for over a decade.  
Forwarders, NVOCCs, exporters/importers, platforms providing solutions for logistics & supply chain industries, forwarder alliances and networks, and all companies whose workflows include sending important documents will benefit greatly from solutions such as the CargoX Smart B/L.
Benefits of the CargoX Smart B/L blockchain solution include, among other things, the highest level of security. Documents absolutely cannot get lost and they are encrypted and securely stored on the blockchain, accessible only with the B/L parties' private keys. Decentralized storage makes blockchain applications immune to hacker attacks.
Costs will be much lower than today, as documents will not be printed and sent with couriers around the globe.
Documents will be transferred at high speed, as they can be delivered in a matter of minutes, not days or weeks, as currently through courier services.
The whole solution will be much more eco-friendly, as the process is completely paperless and digital.
Tracking and storage will be vastly improved. Every transaction concerning the value-carrying document is traceable on the blockchain and the sequence of events is clearly defined and recorded.
About CargoX
Founded in January 2018, CargoX is an independent supplier of digital solutions for logistics and supply chain industries, based on the public blockchain ledger. The company is currently in the phase of launching to the market its Smart Bill of Lading solution for an extremely fast, safe, reliable, and cost-effective way to process Bills of Lading anywhere in the world. The Smart B/L solution utilizes the public blockchain for maximum reliability and unmatched trustworthiness to avoid the hassle of issuing and transferring paper documents around the globe, while vastly improving over the archaic existing processes. The company is building an ecosystem for logistics and supply chain services.
About BiTA
Founded in August of 2017, BiTA promotes the development and adoption of blockchain applications in the trucking, transportation, and logistics industries, including establishing industry-wide standards. Members include truckload, LTL, and parcel carriers, as well as shippers, tech startups and incumbents, insurance companies, law firms, and other industry participants who have an interest in integrating blockchain technology into their organizations. The Alliance has offices in Chattanooga, TN, and Singapore. For more information, please visit the BiTA website at www.bita.studio/.