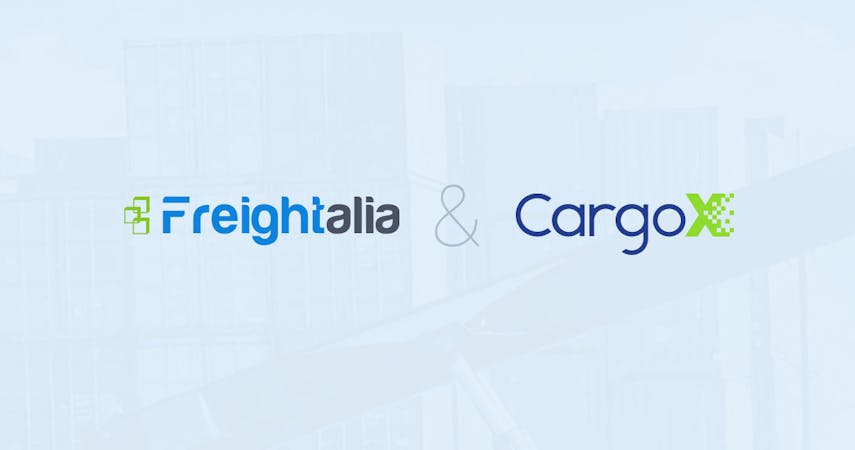 CargoX teams with Freightalia to offer the Smart B/L™ to more than 300 customers in their freight quoting and rate management system
(Hong Kong / United Kingdom, 25 September 2018) - CargoX, the producer of the electronic blockchain-based Smart Bill of Lading solution, and Freightalia, the number one automatic quoting system created for freight forwarders, have signed a partnership agreement that gives Freightalia and its many customers access to the CargoX Smart B/L™ solution.
Freightalia is the first ever fully automatic freight quoting and rate management system for freight forwarders, and it is adaptable to the needs of the freight forwarder's customers, country of business, or specific service needs.
Freightalia gives freight forwarders the tools they need to send custom designed quotes to their customers in real time. These customers then know exactly when a quote was issued, when it was viewed, when it was accepted, or whether it is still pending. The white label system allows self-customization at all aspects of the platform, from branding to the system notifications.
"Our customers are very performance and cost aware, and we are always striving to give them the best technology value for money invested into their business. They demand fast pricing, which can only be provided through a radical change in digital work systems. We help them lead the technological change and bring their business to the next level. But what we value the most, is the ultimate safety and transparency of transferring the documents at the same time - this is really unbeatable, and this is why the paper B/L is a thing of the past. Blockchain brings that to the whole logistics segment! The CargoX Smart B/L™ solution fits our strategy of staying ahead in the market perfectly." said David Aguyé, CEO of Freightalia.
The Freightalia platform, currently in its version 2.2, is used by +300 freight forwarders, with +650 stations worldwide and +60K monthly users.
"CargoX is proud to partner with advanced IT solution providers who are already working with customers to bring them a suite of digital products, tailored perfectly to their needs. The CargoX Smart B/L™ is the first completely secure digital Bill of Lading solution, and we want to see it integrated in all the industry's advanced logistics management systems - this is exactly why we are proud to partner with a platform used by freight forwarders to offer cutting-edge services to their respected customers," said Stefan Kukman, CEO and founder of CargoX.
More about Freightalia
https://freightalia.com