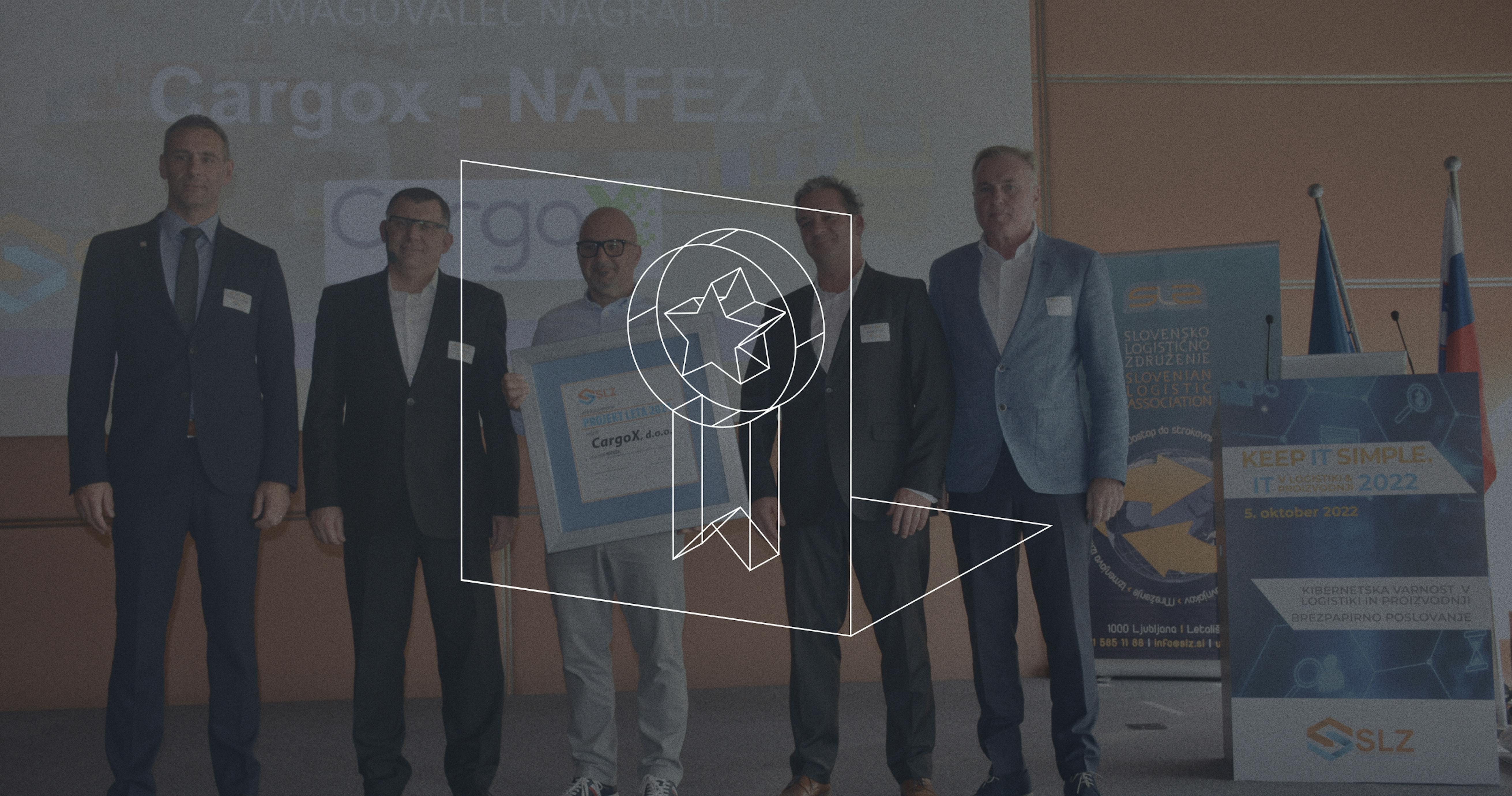 CargoX wins 2021 Logistics Project award with nomination for European ELA Awards 2023
(Ljubljana, 11 October 2022) – CargoX, the winner of the 2021 Logistics Project Award, will be nominated for the European Logistics Association Award – Project of the Year 2023 competition. 
The Slovenian Logistic Association selected the winner of the 2021 Logistic Project competition based on multiple factors, such as environmental, economic and social impact, as well as change management approach. During the evaluation, the complexity, originality, and usability of the solution were taken into account.
About 2023 ELA Award
At the 2023 ELA Award best practices in logistics and supply chain management will be presented during an evening of true international networking with trade professionals. ELA is the federation of national logistics associations in Europe and it offers a professional network of practitioners. The projects presented during this event are the finalists from the European competitions. To be able to join this competition the projects have to already be champions in their own country. This is truly the battle of the strongest.
About the winner: NAFEZA + CargoX
The public-private partnership Misr Technology Services (MTS) which is majority-owned by the Egyptian government– authorized CargoX as its blockchain document transfer gateway service provider for the country's official NAFEZA single-window trade platform in March 2021. 
Designed to bring trust and transparency to a digital trade environment, systemise Egyptian trade documents and information flow with companies around the world, the NAFEZA solution integrates the CargoX platform for Blockchain Document Transfer (BDT). Usage of the system became mandatory in Egyptian ports on 1 October 2021, and is extending to airfreight in the coming months.
Benefits of the NAFEZA+CargoX solution
Benefits resulting for users from the adoption of blockchain technology for providing import documentation to the Egyptian authorities include increased transparency, elimination of red tape, and a reduction in the average cargo release time from 29 days to 9 days with a notable reduction in container demurrage and storage fees. Compliance costs for shippers have also been slashed from more than US$600 to US$165, or less as a consequence of the move onto the blockchain. 
As part of the extended agreement, the NAFEZA project will now be rolled out to include air cargo and encompass a total number of 30 sites including airports, seaports, dry ports, border posts, free zones, and bonded warehouses. NAFEZA has so far been adopted by more than 32,000 importers, 20,000 exporters, 2,200 brokers, 300 shipping agencies & freight forwarders, as well as more than 95,000 foreign exporters. The system currently handles 12,000 transactions a day.
"The use of the platform in the public sector is a revolutionary step for global maritime shipping. We are constantly working on providing great value, confidentiality, transparency, and immutability to our customers and our partners – and we base that value on building digital trust in global trade. We believe the successful approach can be replicated in Europe just the same as it was first deployed in Egypt – and now it can be even easier, as numerous global companies are already using the CargoX Platform," said Stefan Kukman, Founder & CEO, CargoX. 
"The award does not only celebrate CargoX and MTS, but the whole approach of digitalization of global trade, which is long overdue. CargoX has successfully modernized one of the oldest paper-based processes in international trade and made it possible for governmental entities and economic operators to stop sending paper around the world – and start using blockchain technology as the most reliable medium to transfer documents of title and other electronic trade documents. CargoX and MTS are showing the way for the whole world with a successful implementation – a first in the industry," said Igor Jakomin, deputy CEO of CargoX.
About CargoX
CargoX Ltd is a global company specializing in document transfer solutions, based on blockchain transactions and an ownership validation platform. The core team of founders brings together experience in the logistics, banking, programming, IT, and blockchain industries. Users of CargoX's BDT platform can upload or create electronic trade documents and then transact ownership of them like money through a global bank, at any time,
About MTS
Misr Technology Services (MTS) is a trade & transport logistics platform provider, yet another of the Egyptian government's strategic PPP realization efforts. MTS is engaged in a 20-year contract to launch a national platform that covers Egyptian airports, seaports, land ports, and free zones in compliance with international standards and best practices. The target platform relies on ICT solutions and systems integration as a basis to provide electronic services, speedy automated procedures, and services of real business value to the trade community in a unified manner. The company aims at providing unified quality data in a complete, accurate, and timely manner to the designated governmental authorities in support of their decision support processes.