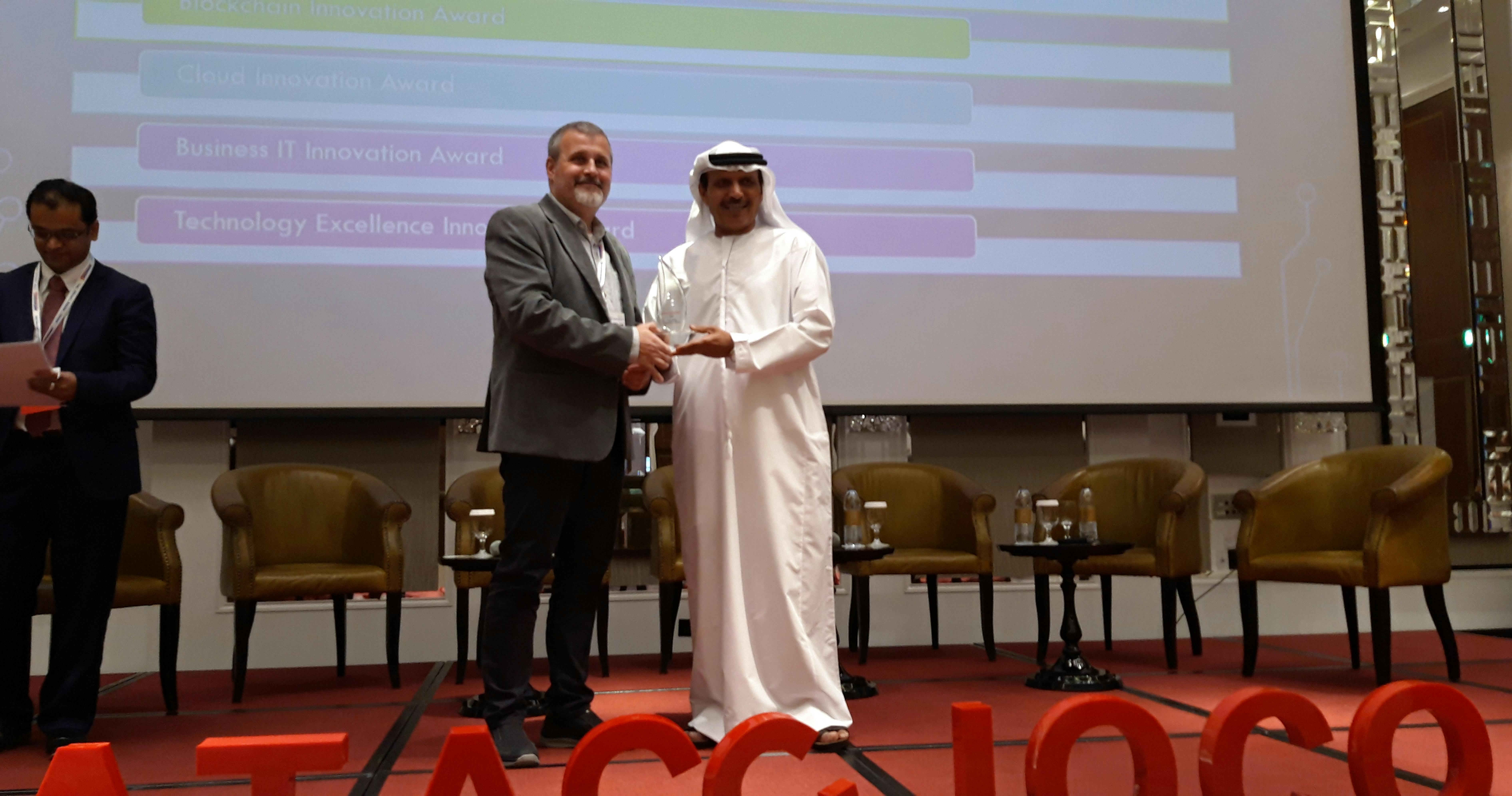 CargoX wins the #DataccioConnect Blockchain Innovation Award in Dubai
(Dubai - 21 November 2018) - CargoX wins the #DataccioConnect Blockchain Innovation Award at the Dataccio Connect congress in Dubai, where maritime business traditionalists and enthusiasts discuss the latest trends in technology.
The Blockchain session at#DataccioConnect Dubai, November 21 included presentations by blockchain experts across the globe and a panel discussion entitled, "Blockchain - Looking beyond the Hype", where participants included blockchain experts John Monarch, CEO, ShipChain, Vjeran Ortynski, CBDO, CargoX Ltd., Irina Heaver, Partner, Fichte & Co, Liji Nowal, Co-Founder & Managing Director, ODeX India Solutions Pvt Ltd, and Saurish Nandi, MBA, IPSCM., Co-Founder & CTO, Blocbox.io.
The #DataccioConnect Blockchain Innovation Award was presented to CargoX by the esteemed Mr. Khamis Juma Buamin, who joined the #DataccioConnect Dubai as the Guest of Honour.
Mr. Buamin is Board Member, Managing Director and Group CEO of Gulf Navigation Holding PJSC, the Chairman of the Dubai Council for Marine and Maritime Industries (Dcmmiemirates), and Chairman of the Federal Committee for the Revision and Update of the UAE Maritime Law. He was recognized as the most influential of the top 50 maritime personalities in the world by Tanker Shipping & Trade magazine of London 2015.
#DataccioConnect is a one-of-a-kind technology event targeted at key players across the entire maritime ecosystem. They familiarise decision-makers with the latest technological advancements across the sector and make the transition to digitalization comprehensive and smooth. #DataccioConnect's leaders in maritime industries are bridging the gap between the past and the future. It is #DataccioConnect's mission to show the community the benefits of digitalization and the steps needed to make a seamless transition.
Through #DataccioConnect, organizers bring traditionalists and technology enthusiasts together to encourage a discussion on the tech trends - Big Data, AI, IoT, Blockchain, etc. - that are making an impact on maritime logistics - now more than ever! They showcase how this technology is being implemented, the benefits felt, and how embarking on this digitalization journey will benefit maritime shipping enterprises.
More about the #DataccioConect congress: http://www.dataccioconnect.com/