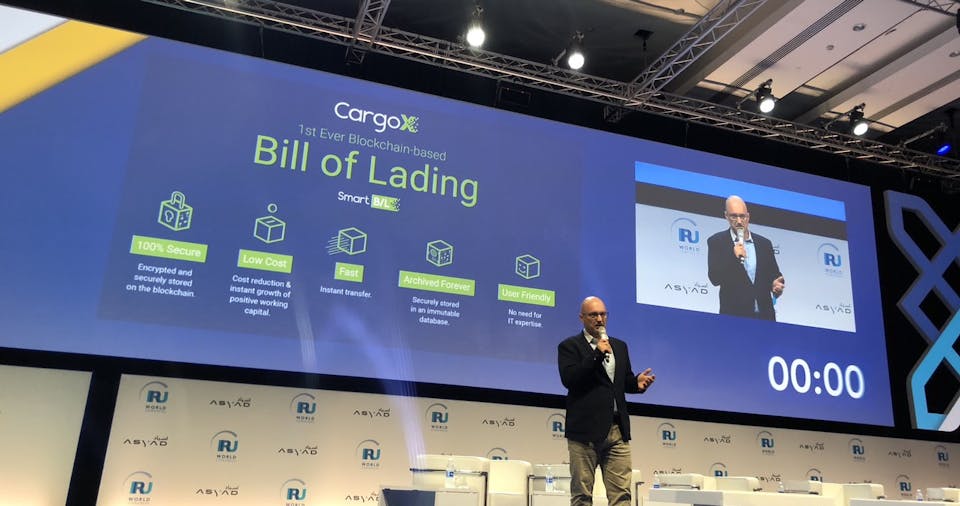 CargoX wins the IRU World Congress Startup competition among 77 competitors
(Muscat, Oman - 8 November 2018) - CargoX wins the IRU World Congress Startup competition among 77 competitors, impressing more than 1000 attendees from over 60 countries.
The IRU organization is constituted of more than 100 national transport associations and transport operators. Igor Jakomin, Ph.D., COO of CargoX, pitched the CargoX platform to a jury of venture capitalists, business professionals, and industry experts.
The startup competition was organised by Road Ventures SA, a Captive Venture Capital Fund that supports innovation in mobility. The competition was dedicated to launching and advising the world's next wave of leading entrepreneurs.
Six finalists had the opportunity to face the judges in Oman during the IRU World Congress this week, culminating in a live pitching session during the final plenary, when the jury awarded the USD 100,000 direct investment prize to CargoX and Zeleros Hyperloop.
IRU and Roa Ventures SA chose the six finalists for the most promising innovations in the transport industry; the decision was made by judges Patrice Crisinel from Road Ventures and James Miners from Fongit.
Boris Blanche, Managing Director of IRU, said, "Both CargoX and Zeleros stood out for their combination of viability and invention. These are two concepts that truly break the mould, while offering tangible business propositions. We wish both businesses every success for the future."
Patrice Crisiniel Road Ventures Managing Director, said, "This has been a tough decision for the jury, as we had six strong finalists. But we are delighted to be able to select two winners today. CargoX and Zeleros are both great examples of the ways in which technology can be used to drive improvements and efficiency within the transport and logistics industry."
CargoX and Zeleros split the prize of USD 100,000 in equity investment and the opportunity to gain visibility with venture capital firms, angel investors, press and media.
More about IRU World Congress: https://www.iruworldcongress.com
Last updated: 9 November 10:30 - quotes of Boris Blanche, Patrice Crisiniel, and Igor Jakomin added.