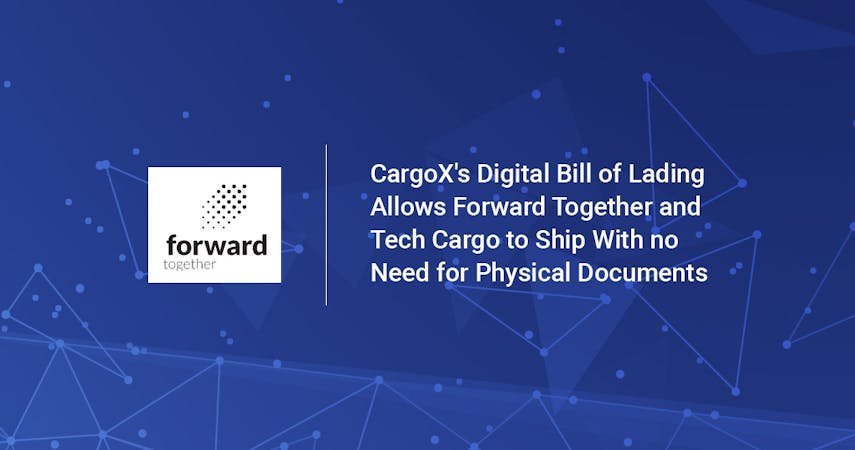 CargoX's digital bill of lading allows Forward Together and Tech Cargo to ship with no need for physical documents
(Dublin, Ireland -  June 24, 2020) -  As a response to the shipping ministry's move during the Covid-19 pandemic in India to recognize electronic shipping documents in lieu of physical documentation, the newly established logistics network Forward Together has piloted a simulation with the freight forwarding company Tech Cargo to digitally expedite the ownership transfer process through blockchain. 
Powered by CargoX's technology, Forward Together, and Tech Cargo successfully sent a shipment that substituted the manual handling of paperwork and documentation with a blockchain-protected digital Bill of Lading, thus avoiding the need for person-to-person contact and meeting the requirements of social distancing to avoid the spread of Covid-19.
 "The ability to conduct shipment transactions and transfers of ownership without the need for human intervention and with the added security provided by blockchain technology creates a breakthrough case for freight forwarding and logistics, especially during times where social distancing and health measures are so important," says the founder of Forward Together, Alejandro Gutierrez. "With the technology of CargoX, we're proud to offer this option to freight forwarders as part of our network and look forward to continually innovating in ways we can overcome inefficiencies in the industry".
"We are proud to collaborate with modern companies and networks who are eager for new technology to gain business advantage in these difficult times. We have developed the CargoX Platform for contactless, distributed online teamwork, and we are proud to help shipping companies, which form the backbone of the economy, resolve supply chain document sending issues and help them meet delivery deadlines everywhere in the world, in a secure and efficient manner, while also lowering the document transfer cost," said Stefan Kukman, CEO and founder of CargoX. 
Witnessing the success of using an electronic version of the bill of lading, enhanced with P&I approval and protected by the immutability of the blockchain, Forward Together has advanced to the point that they will be able to provide this service to its members.
This pilot included the participation of Globus Transitions as the issuer of the Smart Bill of Lading, using the CargoX Platform for a DeeEs Engineers India Projects shipment to Parsteel Shelving Co./ Atlas Mega Steel as the consignee. The successful release of the cargo was then triggered by Tech Cargo as the Release Agent in the transaction. 

About Forward Together
Forward Together is a freight forwarding network that was launched in 2020 by experienced freight forwarders to help equip SMEs in the industry with the right tools to attack and prosper throughout the Covid-19 crisis. The Forward Together Network provides breakthrough collaboration and engagement opportunities with the help of technology and high-quality members.