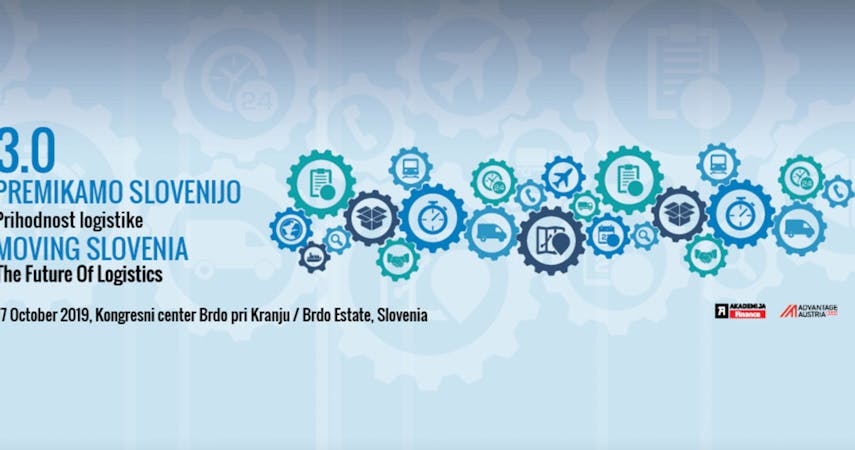 The Future of Logistics meets CargoX Smart BL™
(Ljubljana - 17 October 2019) - The CargoX Smart B/L™ platform has been showcased at the Moving Slovenia 3.0 - The Future of Logistics conference, held in Slovenia, at the prestigious national Brdo Congress centre. Jaka Mele, CDO of CargoX, was one of the featured speakers, among other industry experts and top logistics managers. 
The Adriatic region is undoubtedly of extreme interest for Central European logistics. It shortens sail times for sea freight originating in Asia by 5-7 days as compared to ports like Rotterdam and Hamburg. Regional logistics conferences accordingly play a major role in local development because they bring together logistics companies and experts from widespread segments of the transportation business. 
One of the key events covering this area is the traditional international logistics conference Moving Slovenia 3.0, held by the Finance Business Academy and Advantage Austria Ljubljana. This year the conference saw more than 200 people from 150+ companies in attendance, including logistics behemoths like Schenker, CargoPartner, Gebruder Weiss, and national railway operators.
The regional conference served as a chance for regional leaders to connect and debate the future of logistics, automatization, digitalization, last-mile delivery, and intralogistics highlights. Among the hot topics were human-free logistics services, provided by autonomous vehicles and drones, and with autonomous vehicles that have successfully reached commercialization levels within closed systems, such as warehouses.
The development of the Internet-of-Things to the state where it connects all electronic devices online promises big business opportunities, and people are starting to collaborate with machines. Machines, in turn, are joining the human workforce. In retail logistics delivery to anyone, anywhere, anytime is becoming a standard service, as consumers are shopping over on- and offline channels. Environmental and social consciousness is meanwhile on the rise, as consumers demand green and socially responsibly sourced supply chains.
Jaka Mele, CDO of CargoX, has joined the line-up of speakers and debaters, among them dr. Peter Hasslacher of Advantage Austria, Peter Frankl, the Finance business newspaper editor, Aleš Cantarutti, the state secretary at the Ministry of Economic Development and Technology of the Government of the Republic of Slovenia, Vinko Filipič, board member of the Slovenian Post, Lenka Neuhold of Knapp AG Mobile Subsidiary, dr. Bernd Kortschak of the Institute for Transportation and Logistics Management of the Vienna Economic and Business University, Otto Zsivkovits, regional director of Cargo-partner for south-eastern Europe, Andras Liebsch of Log Center by Go Asset Development, Aleš Napast, CEO of Siemens Mobility, Marko Javornik of Voyego, Marko Kovač, Ph. D., of Energetic Efficiency Centre of Jozef Stefan Institute, Mitja Dujc of Luka Koper, and others. 
Jaka showcased the Cargox Smart BL™ platform and sparked a lot of interest: "Usually we see lively activity and new user registration after such events, and this time was no exception! A lot has changed in logistics over the past two years. Companies no longer question blockchain technology - instead, they are actively pursuing the benefits it brings to their business. It is always encouraging to see that more and more people are aware that only public blockchain technology will bring all the benefits and help them avoid wall-gardened private DLT systems."

More about Moving Slovenia 3.0