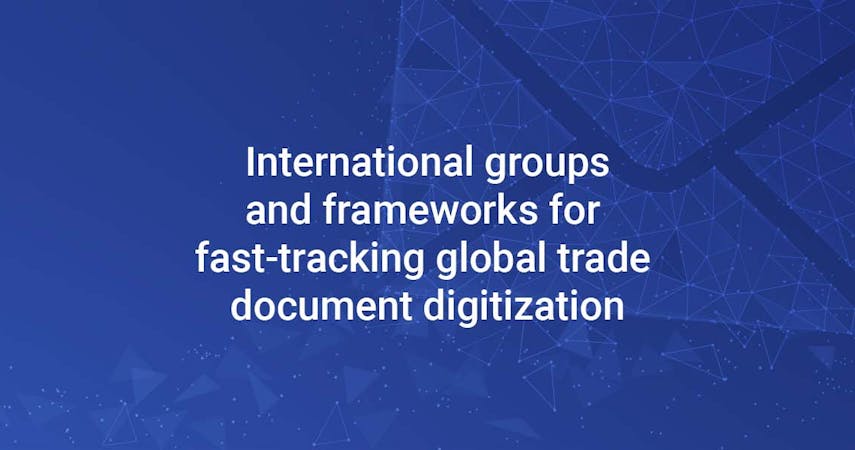 International groups and frameworks for fast-tracking global trade document digitization
CargoX has built a disruptive electronic trade document exchange platform with a neutral, public Ethereum blockchain. But despite the truly (r)evolutionary dimension, It is our goal for the CargoX Platform to be compliant with new and emerging industry standards. 
Some efforts among these are truly monumental and have started to gain traction and show real benefits for companies and organizations taking part in global trade. 
The CargoX Team is actively pursuing collaboration and closely follows the endeavors of leading global industry bodies and organizations on providing a modern set of standards and legislation adoption that could remove friction in global trade.
So, what are UNCITRAL MLETR, ICC URDTT, DCSA Standards for electronic Bill of Lading, ITFA DNI, UNCEFACT/UNECE RDM, and FITA by DCSA, BIMCO, FIATA, ICC and SWIFT, and what do they actually mean? Let us explain.
Fundamental legal compliance already exists
Luckily, the use of electronic trade documents, such as blockchain Bills of Lading, is already safe, secure, and foremost legal around the globe. The concept can be used if all parties agree to such an exchange of documents – as analyzed in the article The legality of an electronic bill of lading.
In line with the goals of leading G7 economies
The compliance agenda and the legal feasibility of the electronic trade document exchange CargoX Platform are completely in line with the goals of leading global economies. Among them, the G7, The Group of Seven wealthy nations (Canada, France, Germany, Italy, Japan, the UK, and the US, who produce 33% of the world's economic output) agreed on the G7 Trade Ministers' Digital Trade Principles to govern cross-border data use and digital trade, and United Kingdom said – in what was described as a breakthrough – that such a move could liberalize hundreds of billions of dollars of international commerce. 
Future International Trade Alliance
Digital Container Shipping Association (DCSA), Baltic and International Maritime Council (BIMCO), International Federation of Freight Forwarders Associations (FIATA), International Chamber of Commerce (ICC) and The Society for Worldwide Interbank Financial Telecommunication (SWIFT) have recently formed the Future International Trade Alliance and signed a memorandum of understanding to standardize digitalization of international trade. 
The DCSA has previously published its eDocumentation initiative, Standards for the Bill of Lading. The DCSA is a neutral, non-profit group established to further the digitalization of container shipping technology standards, in conjunction with its nine member carriers – MSC, Maersk, CMA CGM, Hapag-Lloyd, ONE, Evergreen, Yang Ming, HMM, and ZIM. 
International Chamber of Commerce URDTT
The International Chamber of Commerce is making an impressive progress on the road towards paperless global trade with the publication of The ICC Uniform Rules for Digital Trade Transactions (URDTT) Version 1.0, issued by its Banking Commission. An essential step towards global standardization, the publication provides a collective understanding of terms and definitions to make it possible for trade transactions to be fully conducted digitally. 
ICC + World Trade Organization toolkit
Recently, the International Chamber of Commerce and the World Trade Organization have published the first-ever toolkit to assist companies and government agencies in adopting available standards to accelerate the digitalization of trade processes. 
Drawing on stakeholder consultations through ICC's Digital Standards Initiative over the past year, the report emphasizes that one of the primary barriers to the adoption of paperless processes is a lack of awareness of the existing standards for digital trade. Currently, fewer than 1% of trade documents are fully digitized globally – with a typical transaction requiring the exchange of 36 documents and 240 copies in hard-copy.
The Standards Toolkit for Cross-border Paperless Trade provides the international trade community for the first time with a comprehensive overview of existing digital trade standards that can be used to facilitate trusted, real-time supply chain collaboration and real-time data exchange.
UN Commission On International Trade Law 
The United Nations Commission On International Trade Law (UNCITRAL) has published their Model Law on Electronic Transferable Records (MLETR) in 2017. The law has already been adopted by Singapore, Abu Dhabi Global Market, Belize, Kiribati, and it is being considered by many more. The Model Law on Electronic Transferable Records (MLETR) aims to enable the legal use of electronic transferable records both domestically and across borders. The MLETR applies to electronic transferable records that are functionally equivalent to transferable documents or instruments.
International Trade & Forfaiting Association
The International Trade & Forfaiting Association (ITFA) has recently also published an encouraging paper titled Regulatory Advocacy Around Trade Digitisation in Full Swing. In it, they conclude that all current and mentioned "legal and technology developments demonstrate the firm willingness of all stakeholders to further digitize complex practices that are supporting global trade and receivables financing. Policymakers now hold the key to making it happen in the most impactful way, which is why short-term deliverables are highly anticipated." At the same time, the ITFA is actively promoting its Digital Negotiable Instruments Initiative (DNI) to fully digitize bills of exchange (B/E) and promissory notes (PN). 
UN Centre for Trade Facilitation and Electronic Business
The DCSA B/L standards are aligned with the UN/CEFACT (United Nations Centre for Trade Facilitation and Electronic Business) multimodal transport reference data model to ensure a global industry framework that accelerates digitalization through a unified industry effort.
World Customs Organization
The World Customs Organization (WCO) brings together customs organizations from 183 countries. It adopted the SAFE Framework of Standards to Secure and Facilitate Global Trade in 2005 to act as a deterrent to international terrorism, safeguard tax revenues, and promote trade facilitation worldwide. The SAFE Framework is regularly updated to effectively address new and emerging developments in the international supply chain. In 2018, updates to SAFE included the Advance Cargo Information Implementation Guidance. 
World Economic Forum
At the other end of efforts, the World Economic Forum (WEF) has developed a Blockchain Deployment Toolkit titled Redesigning Trust. The toolkit, launched in early 2020, includes a set of high-level guidelines documenting tried and tested best practices to address the issues that arise in blockchain implementation projects. It helps companies maximize the benefits and minimize the risks of the technology.
International Group of Protection & Indemnity Clubs
One of the greatest business compliance endorsements for CargoX came from International Group of Protection & Indemnity Clubs. The IGP&I is an association of the 13 principal underwriting Protection & Indemnity (P&I) Associations, which provide liability cover for approximately 90% of the world's ocean-going tonnage. Of the world's top 25 reinsurers, 22 were featured on the Group's program in 2019. 
India, Egypt…
The most prominent attestation of global compliance is the introduction of the CargoX Platform as the authorized blockchain document transfer gateway by the Government of Egypt for the purpose of Advance Cargo Information (ACI) declaration for all import cargo to the Egyptian Customs Authority and integration in their National Single Window for Foreign Trade platform  (NAFEZA). 
The mandatory use started on 1 October 2021 and since then its beneficial effects have been well proven. The system streamlined cargo clearance processes and reduced release times from 29 to less than 9 days. All the government bodies (26), associated with cargo clearance were integrated. Entry of shipments from anonymous exporters is prevented. A reliable national data warehouse was established to support decision-making for the ministry of finance, trade & industry, transport, and cabinet. 6 of the required documents were fully digitalized, while 11 were eliminated, retaining compliance with WCO and TFA requirements. 
Consequently. compliance costs for shippers have been slashed from more than USD 600 to USD 165 or less. More than 75.000 foreign exporters have adopted the platform and sent more than 1.1 million import documents. 
Previously, the CargoX Platform was already integrated by Portall into the Port Community System PCS-1x of the Indian Ports Association to help the Government of India digitalize the bill of lading processing and move all trade documents to electronic means of transfer. 
Constant evolution!
These are just a few of the organizations and governments to which CargoX is providing technical insight, expertise, and services to modernize and facilitate electronic trade document processing, and closely follows their activities.
We believe the organizations, governments, and companies are on the right path – building a paperless lane into the future of global trade. 

Resources: