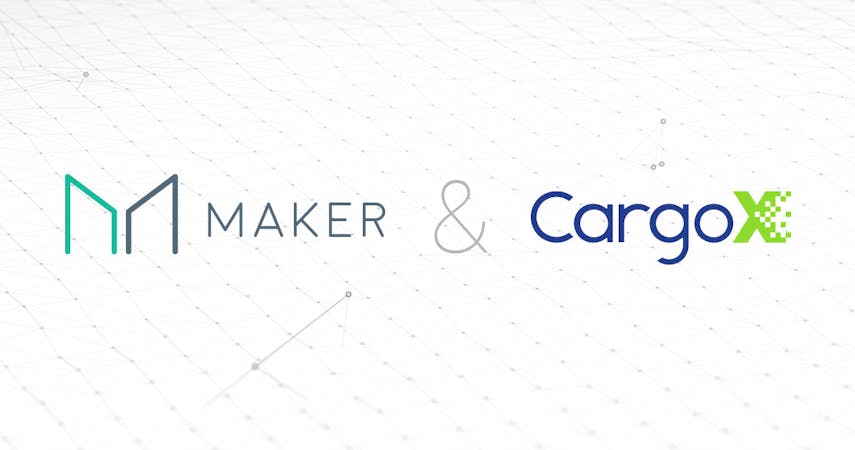 MakerDAO and CargoX partner to revolutionise logistics, supply chains and shipping
MakerDAO and CargoX are excited to announce a partnership that will combine the technology and expertise of both projects to create a new generation of exciting smart contract applications in the field of supply chain, logistics and shipping.
MakerDAO developed the Dai stablecoin, a digital currency soft-pegged to USD 1. The peg is maintained using decentralised and auditable smart contracts to hold collateral in excess of the total Dai supply.
CargoX is a startup with a team of experienced logistics innovators who are building a suite of supply-chain-related smart contracts to revolutionise the industry. CargoX aims to disrupt logistics with a fast-to-execute blockchain-based Bill of Lading, and they will continue with the development of the smart equivalent of the Letter of Credit, together with banks and insurers, and settlement with crypto tokens will be provided in the future.
"CargoX will benefit greatly from the partnership with MakerDAO as it will expose us to extensive knowledge and experience of blockchain and smart contracts. With this partnership we will jointly develop the second stage of CargoX, a settlement system for global trade. The solution, similar to the Letter of Credit used today, will ultimately offer many new, yet unseen features, important to trading companies, coupled with drastically lower costs and minimised bureaucracy," said Stefan Kukman, founder and CEO of CargoX.
The supply chain industry is one of the world's most valuable, with over USD 4 trillion turnover per year. Every single company and product in existence depends on an often multinational supply chain, comprised of several complex steps.
Each step in a supply chain requires many financial transactions, including invoicing, lines of credit, inventory financing and settlement. In today's world all these steps are using outdated, almost archaic technologies and principles. The result is a highly inefficient system that is particularly unfair to smaller participants, and it is laden with different risks and downsides. Processes and technologies used are slow and prone to error, even theft and damage to the documents, which can cause complete halts of production and business loss.
The efficiency of the Dai stablecoin combined with the streamlined use cases of the CargoX smart contract logistics ecosystem will be able to fundamentally disrupt each part of transport logistics, allowing both small and large business to reap the rewards of a more efficient and transparent financial infrastructure.
The first step in the partnership will be utilising Dai as a means of settlement for Bill of Lading transactions. It will be followed by escrow functionality using locked-up Dai stablecoins to guarantee payment for transactions, without full upfront payment.
MakerDAO will be contributing with its rich development expertise in the field of the smart contract security, and will share its core resources to help develop and audit the CargoX smart contracts.
CargoX is already gaining widespread support in the logistics industry, and the team will shortly publish its Smart B/L exchange protocol and execute the first Smart B/L sea-freight pilot shipment in Q2 2018, to be followed by the release of the full-featured Smart B/L dApp later in Q2 2018.
About MakerDao: www.makerdao.com