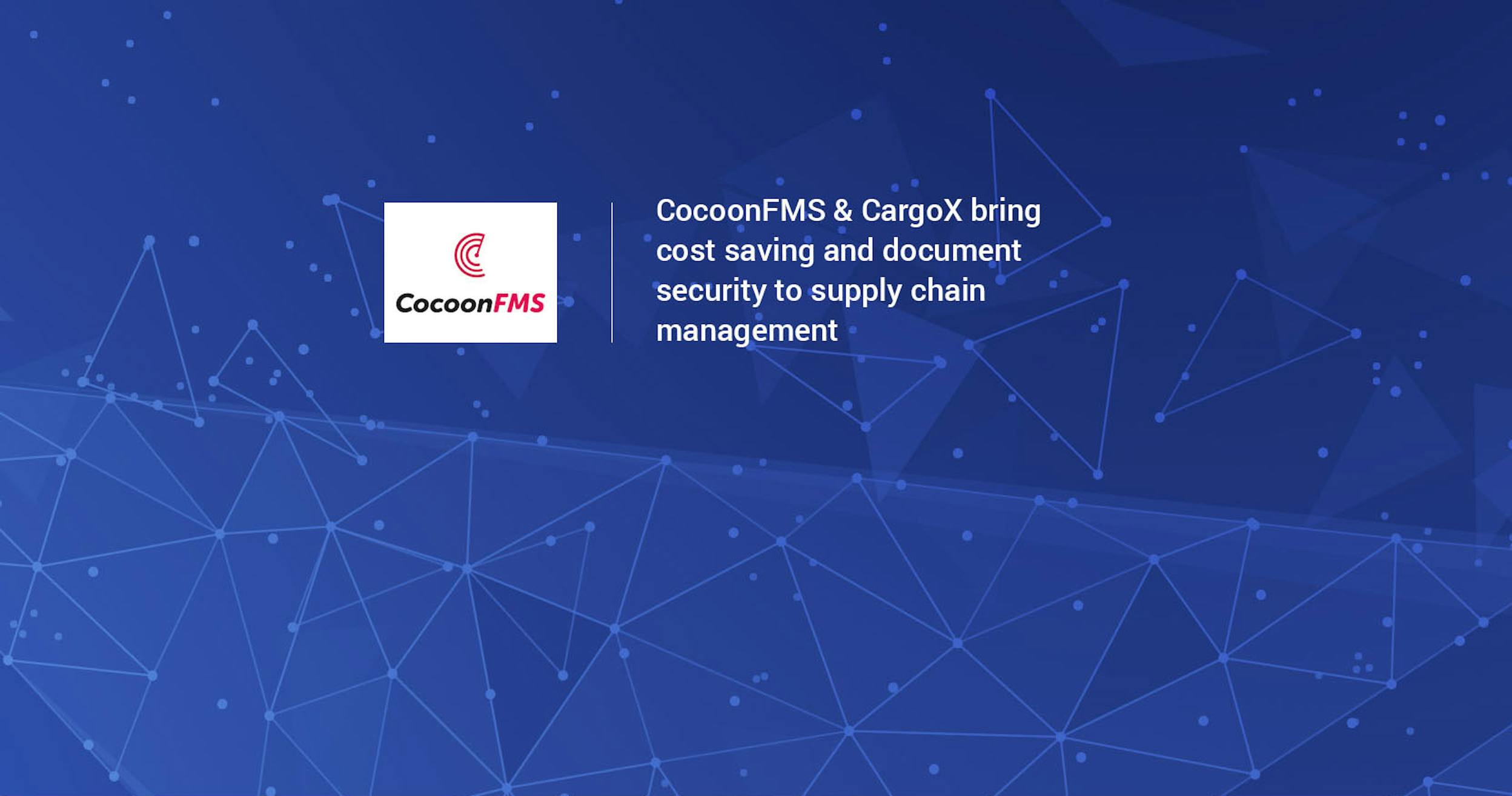 New partnership between CocoonFMS & CargoX brings costs savings and document security to supply chain management
(Lichfield, UK - 10 Nov 2020) - CocoonFMS® Ltd is excited to announce the partnership with CargoX. The CargoX Platform for Blockchain Document Transfer (BDT) will be integrated into their existing product CocoonTMP (Transport Management Portal) to allow 3PLs and freight forwarders and customers to upload their documents securely using the CargoX Platform for Blockchain Document Transfer (BDT). 
 
Traditionally the transfer of the title of an important document, such as a bill of lading, is done via a courier service or registered post. This meant these critical documents could be lost, stolen, or even forged. 
This new exciting integration means CocoonTMP clients can upload these critical documents safely and securely whilst enjoying massive cost savings, as they do not have to send the document the old-fashioned way. All the documents are stored in the CargoX Platform for Blockchain Document Transfer (BDT), which is easy to access, secure, and cost-effective. 
 
Key Benefits: 
•    The B/L, or any other document, will never be lost, stolen, counterfeited, or damaged again. Decentralized encrypted storage is 100% resilient against hackers. 
•    It is far easier and cheaper to send a document digitally and securely around the globe than it is to ship a piece of paper. 
•    The platform is very user friendly.
 
"Having this partnership with CargoX and integrating Blockchain into our existing system has just taken CocoonTMP to the next level. This technology gives more control to the industry. Not only can you track your shipments, but you can also now send 100% secure documents at very little cost. We're so excited to be working in partnership with CargoX and we look forward to our clients using this cutting-edge technology," commented James Blackman, the Managing Partner of CocoonFMS®.
 
"CargoX is proud to partner with new advanced platforms and ecosystem initiatives in the maritime shipping and logistics sectors. CocoonFMS is a hot new solution we like to support in their endeavor to bring best-of-breed solutions in an integrated suite to the freight forwarding market. We have developed the CargoX Platforms with such integrators in mind – to bring freight forwarding into the digital part of the 21st century, with immutability, speed, security, reliability, and confidentiality in delivering documents of title and original digital documents," said Stefan Kukman, CEO and founder of CargoX. 
 
An added benefit for the CocoonFMS® is that their users no longer need to juggle multiple suppliers. CocoonFMS® provides the total solution, delivering fast time to value.  
 
About CocoonFMS® Ltd 
CocoonFMS® Ltd is a Logistics software development company based in the UK with a global reach. Our mission is to be the software supplier of choice to the supply chain and logistics industry, with a vision to create standardisation in the Logistics and the Supply Chain space. 
www.cocoonfms.co.uk
 
About CargoX  
CargoX is a global company specializing in Blockchain Document Transfer (BDT) solutions. The CargoX Platform helps companies build trust in a trustless environment for the logistics, manufacturing, finance, trading, energy, and services industries by enabling companies to securely transfer their most sensitive documents, including documents of title. The CargoX Platform is built on the neutral Ethereum public blockchain for transaction and ownership validation and is approved by the International Group of Protection and Indemnity Clubs (IGP&I).