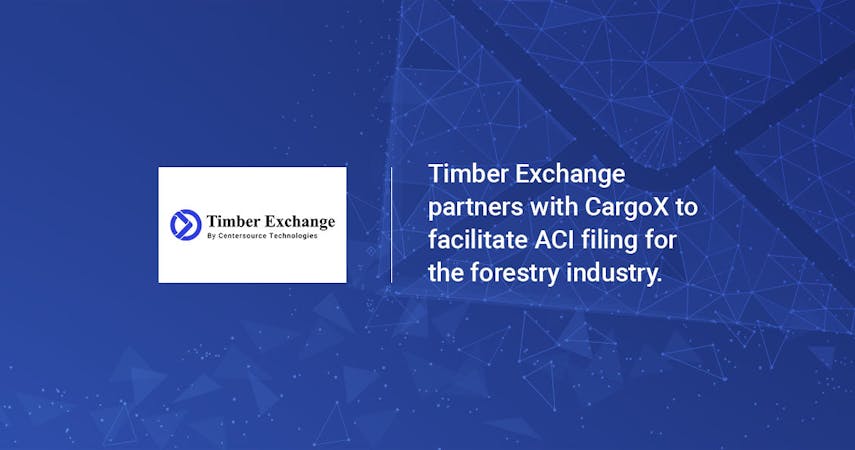 Timber Exchange partners with CargoX to facilitate ACI filing for the forestry industry
(7 October 2021 - Sweden) -- CargoX has partnered with Centersource Technologies, a provider of digital supply chain infrastructure and automation solutions, and its Timber Exchange platform.
The Timber Exchange provides the global forestry industry with a central place to manage its global supply chain, along with a B2B marketplace and a market data hub. 
As Egypt is an important timber market for the largest producers and exporters, such as Sweden, Finland, and Russia, a collaboration between Centersource & CargoX is a natural step to jointly digitise and simplify global trade. 
Timber Exchange aims to provide sawmills and timber exporters with a truly seamless and automated experience to ensure full compliance from ACID.
Amir Rashad, CEO of Centersource Technologies, says, "We look forward to educating the market about the ACID regulations and offering the integrated tools of Timber Exchange & CargoX to provide smart tools that both automate the process and significantly reduce the risk of non-compliance. After all, small mistakes or missed deadlines can lead to import rejection at POD."
Stefan Kukman, founder and CEO of CargoX, remarks, "Centersource and CargoX are proud to bring innovation to a traditional industry that does not easily embrace innovation. So it is in the timber industry, and it goes without saying that maritime shipping is also transforming digitally at the speed of cargo ships. Innovative companies like ours have developed revolutionary products that are slowly but steadily gaining market share and becoming the tools of choice for modern, reliable, and secure global trade!"
The team behind Timber Exchange and Centersource has decades of experience in international trade across all areas from manufacturing to export sales, logistics, trading, analytics and technology. They are particularly proud to have recently developed more than 90 smart tools that cover the entire trade and logistics lifecycle, from from purchase inquiry until arrival at POD.
Educating the market and developing smart tools that significantly reduce the risk of non-compliance are critical for forest products, as shipments are often made up of cargo that originates from multiple producers and contains many unique products. Even tiny errors or missed deadlines can lead to import refusals (POD), resulting in significant fines and tripled logistics costs.
The Timber Exchange platform helps exporters create fully compliant shipping documents, check ACID items for imports into Egypt, submit shipping documents to Egyptian Customs Authorities, track all milestones, generate deadlines (tracking shipments from over 18,000 bulk carriers and 60 container lines), and remind users when still unmet deadlines are approaching. 
In addition, Egyptian importers can collaborate and manage their supply chain in their native Arabic language, facilitating global trade and improving customer service.
About Centersource
Centersource is a supply chain automation platform developed by industry experts with extensive global experience, covering trade and related logistics activities from request to arrival of goods at the buyer's premises. The platform's features reflect all the complex and non-linear processes that global businesses face today, all while exceeding privacy and security expectations. This independent digital platform and toolkit automates the most time-consuming processes facing businesses today, including export/import, logistics, documentation, analysis, compliance, accountability, transparency, visibility, and more.
Read more: